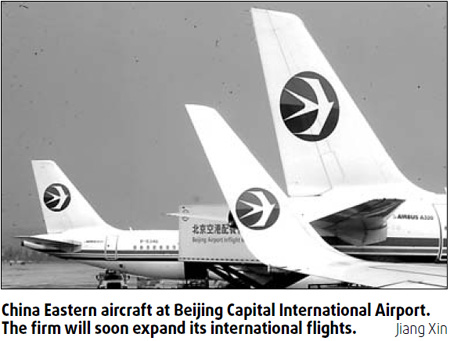 SHANGHAI: China Eastern Airlines, the nation's third largest carrier, has agreed to buy 16 Airbus A330 planes, which analysts see as an ambitious move to expand further into international markets.
The two companies finalized the deal on Monday, China Eastern Airlines said in a statement yesterday to the Shanghai Stock Exchange.
The planes are due to be delivered between 2011 and 2014, and cost the Shanghai-based carrier approximately 17.75 billion yuan, it said, and the company plans to pay Airbus with bank loans, according to the statement.
The two-aisle A330 aircraft is usually used in middle- and long-distance flights to destinations like the United States, Europe and Australia.
With deliveries to be spaced out over a four-year period, further expansion into international markets is expected to be gradual, said Li Lei, an airline industry analyst with CITIC China Securities.
The order comes as air traffic in Asia rose in October for the second consecutive month, in sharp contrast to the situation in Europe and North America where major carriers continue to bleed, said Li.
"The deal reflects China Eastern's robust confidence in the recovery of the international aviation industry," said Li.
China Eastern operates over 80 international and regional routes and over 330 domestic routes, according to the company website.
Ji Lijun, an industry analyst with Shanghai Securities, sees the purchase as a move by China Eastern to cushion the impact of competition from high-speed trains.
The Wuhan-Guangzhou high-speed railway, which started operation on Dec 26, has shortened the travel time between the two cities from 10 hours to three.
"High-speed trains will definitely compete with air carriers for passengers because passenger volume is relatively fixed," according to Li Jiaxiang, director of the Civil Aviation Administration of China, who made the remarks during a media conference earlier this month.
"Figures from developed countries show that there will be, on average, a 50 percent decline in air travel passengers after a new high-speed train begins operation," he said.
Concerns over railway competition and dwindling passenger numbers are both potential reasons for China Eastern to make the purchase, Ji said.
Existing international airlines based in China are all short-distance carriers traveling to locations like Japan and South Korea. But with the development of Shanghai into an international transportation hub, it is necessary for China Eastern and other carriers to offer more long-distance, international flights.
China Eastern reported a net loss of 13.93 billion yuan to the Shanghai bourse in 2008 on losses from futures trading of fuel contracts.
The Shanghai-listed airline reported a net profit of 1.85 billion yuan in the first 10 months of this year after a management reshuffle, cost reductions and a capital injection.
The Shanghai-based airline has decreased its debt-to-asset ratio to 94.7 percent after it issued new shares worth 7 billion yuan last week.
(China Daily 12/30/2009 page14)