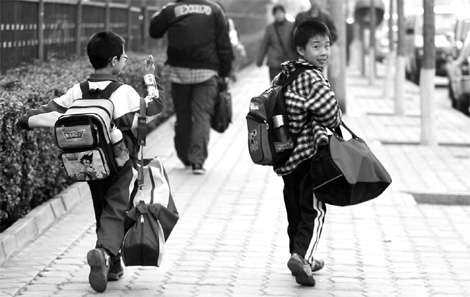 Two primary school students walk on the streets of Beijing, carrying heavy loads for extra classes after school. Wang Jing
More parents are enrolling children as young as 7 in extra classes to make sure they stay ahead of the competition. Lin Qi reports
In real life, Xu Ming, 37, is an ordinary Shanghai office worker and mother of a 7-year-old boy. In the cyber world, however, she is a minor celebrity, and is known as "tomato (her son's nickname) mom" among an increasingly large fan base of mostly young parents.
The source of Xu's fame is her hilarious blog on child raising, which she has been maintaining ever since she became pregnant.
One of the most hotly debated issues of Xu's blog is her advocacy of a "happy education". For instance, she did not have her son, Dai Chenming, attend any private early education school. Neither did she try to squeeze Dai into the most competitive primary schools, given the current "ze xiao"(or selecting the best school) craze among parents. Second-grader Dai attends an ordinary school that believes in a light homework load and a carefree childhood.
While other students are marooned in private extracurricular classes over the weekend, Dai spends his time playing football and Wii games, and logging on to kaixin001.com, a China-based, Facebook-style social networking system.
Xu has been nominated for the Shanghai Education Newsmakers 2009 honor, with her competitors being experienced teachers and educators.
"There is nothing unusual about my parenting philosophy," Xu says. "I just want my son to enjoy his childhood, rather than to have a painful one in the name of future success."
Not everyone agrees with Xu, though. She has been criticized as being "irresponsible" about her child's upbringing. Even those on her side can't help having their doubts. "How can young children progress if parents don't push them and pave a well-planed future for them?" they wonder.
China's nine-year compulsory education system comprises six years of primary education and three years of secondary education. Children attend public schools that are located in the designated area of the same district as their registered hu kou (residence permit) for free. But if the child wants to attend a school that is not in his district, he has to pay, with the amount reaching 20,000 or more for the better schools, and also take an entrance exam.
Despite wanting their children to learn and grow naturally, parents feel huge pressure to send their children to competitive schools or acquire a stack of academic and extra-curricular certificates, so that they do not lose out to their contemporaries.
Shi Yue is one of these parents. Her son is a second-grader at the prestigious Experiment Elementary School affiliated to Beijing Normal University. But the little boy is already tired.
"The homework has mounted in the new term. School ends at 3:40 pm, but he usually spends an hour on his homework and then the next few hours, until 8 pm, reviewing and preparing for his new lessons. Some of his classmates do not go to bed until 9 or 10 pm."
She says her son is already looking at material typically meant for a fourth-grader and is required to solve 60 oral arithmetic problems in five minutes. "I didn't learn multiplication or division until I was in the third-grade," she says.
On weekends, her son takes extra math lessons taught by the boy's grandmother, a retired math teacher of his school. "My parents-in-law have pinned great hopes on him. They always want him to be a top student," she says.
The boy is left with little time to play. Even when he does, he can't find any playmates his age. Almost all the children in his residential community are rushed to all kinds of extra classes and private weekend schools.
"A few days ago, he cried and asked, 'Mom, why is studying so painful?' It broke my heart," Shi says. "Sometimes I wonder whether he would have been much happier if I had sent him to an ordinary school with less homework and pressure."
But where every family has only one child, and every parent seems to be doing his utmost to give his child the best possible education, the urge to follow the crowd is strong.
"Under the current education system, passing the 'gao kao' (the National College Entrance Exams) is still the ultimate goal for most people," says Xiao Lin, mother of a fourth-grade boy in Beijing.
"Parents always have boundless ambitions. They wish to send their children to key primary and secondary schools, to lay a solid foundation for entry into key high schools. And a competitive high school normally means excellent scores on the gao kao and one step into a prestigious university," she says.
When Xiao picks up her son, who attends a boarding school in Beijing, every Friday afternoon, she receives a dozen advertisements for private weekend schools that promise entry into the best secondary schools through their training.
Xiao usually throws those leaflets away. She says her son has learned a lot at school and deserves a weekend break. But many of her friends make sure the children have an equally busy weekend. One of them drives her third-grade daughter to English, dance, piano and math classes on Saturday and Sunday. She hopes her girl will become competent enough to be enrolled in key secondary schools three years later.
"I'm now considering sending my son to an English training institute in the coming winter holiday. He received low English marks recently and his teacher calls a lot to complain," Xiao says.
Meanwhile, money that parents spend on an elementary school education is growing and sometimes exceeds college tuition fees. Xiao has already paid 20,000 yuan in "sponsorship fees" to the school her son attends, as their hu kou is outside Beijing.
Song Xufei, father of a sixth- grader in Hangzhou, capital of Zhejiang province, says he paid 30,000 yuan so his son can attend a key primary school, even though their hu kou is in the district the school is located.
Song has also spent a considerable amount over the past five years on painting and singing classes, as well as on extra classes in math and English, to boost his son's scores.
"The private math center charges each student 30 to 60 yuan an hour. But some teachers, who run after-school classes in violation of school rules, charge 100 to 200 yuan per person," he says.
"It is worthwhile. My son will face stiff competition next year if he wants to be admitted to a key secondary school nearby."
Even Xu Ming once thought about sending her son to a math training class. "But I believe that in addition to the schooling, what he needs most is adaptability and a positive attitude that will help him survive under any circumstance. Even if he grows up to be a farmer, he should be a happy and diligent one," she says.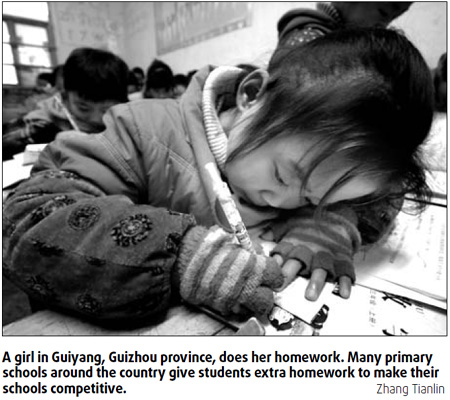 (China Daily 12/29/2009 page20)