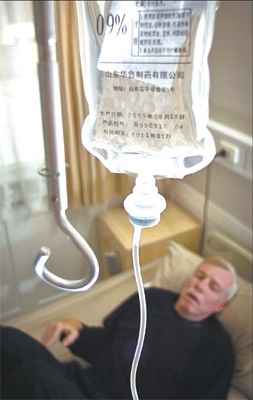 Richard Jewell, 54, an American sufferer of Parkinson's disease who has paid more than $30,000 for stem cell treatment, waits in his room in Tiantan Puhua Hospital in Beijing.Photos by Jonah M. Kessel
China plans to tighten laws to halt stem cell treatments as questions on effectiveness and safety remain, reports Todd Balazovic
When Penny Thomas was diagnosed with Parkinson's disease in 2001, she promised herself she would never allow the illness to take over her life. And for five years, she was successful.
But despite her brave battle against the degenerative disorder, which attacks the body's central nervous system, the 56-year-old American eventually began to see her world crumbling around her.
Just getting out of bed became a struggle, and she was depending more and more on friends and relatives for help. "If I wanted to brush my hair or dress myself, it would take over an hour," said the former park ranger from Denver, Colorado.
She cancelled her driving license because she felt it was no longer safe for her to be on the roads, and she abandoned her dreams of running her own horse training facility.
It was at this low point she began researching stem cell treatments.
She had expended all other avenues of treatment bar trying the various medications. "I tried everything I could without going onto the medications because my doctor and I knew medications only work for so long before they start working against you," she said.
In March, United States President Barack Obama overturned an almost 8-year ban imposed by his predecessor George W. Bush on government funding for stem cells studies. However, the nation has not approved the use of stem cells on humans, which means patients must travel to countries without a ban on the treatment.
One of these countries is China, where medical professionals are exploiting a legal loophole to carry out the controversial practice that experts have warned has still not been proven effective or safe.
After discussing the topic with a friend and reading dozens of testimonials on stem cell treatments, Thomas booked a flight to Beijing.
"I thought to myself, 'I'm dying slowly here, so if I am going to put myself out on the limb I'm either going to do it or not'. Even if I died, at least I died trying," said Thomas, a divorcee with a 21-year-old daughter.
On May 13, 2006, at Tiantan Puhua Hospital she began a 5-week inpatient treatment that involved stem cells cultivated from donated retinas. It cost her more than 130,000 yuan ($19,000).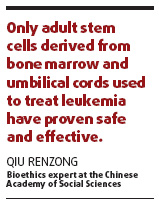 Adult stem cells are sourced from adults - often the patient's own bone marrow - and many specialists in China have switched to using these rather than following the highly controversial practice of using cells from human embryos.
Thomas said the treatment was effective almost immediately. She began noticing small changes in her movements as early as the next day, and when she returned home to the United States two months later, she said her condition continued to improve.
"The first thing I did when I got home was reapply for my driving license. I passed with flying colors," she said.
Thomas is just one of the hundreds of "stem cell tourists" - foreigners from around the globe who have traveled to China to receive the treatment. But the growing trend will be curbed with fresh regulations, according to Ministry of Health spokesman Deng Haihua, who said that practice is currently being practiced in a medical gray area.
"The kind of stem cell treatment (received by Thomas) is not legal in China. Any cutting-edge medical technology needs official approval before it can be put into clinical use. China has regulations on that, but they do not cover the kind of practice," said Deng.
The ministry released new rules in May that require all Chinese hospitals offering stem cell treatments to prove the practice is "effective" before advertising the service. The treatments were also reclassified as "type 3" medical procedures, which need government approval.
Stem cells have been used in China to treat conditions ranging in severity from spinal chord injuries resulting in paralysis to cosmetic facial injections.
"Only adult stem cells derived from bone marrow and umbilical cords used to treat leukemia have proven safe and effective," said Qiu Renzong, one of the nation's leading bioethicists with the Chinese Academy of Social Sciences. "All others practiced in China, including those for cosmetic purposes, have not yet been proven safe and effective."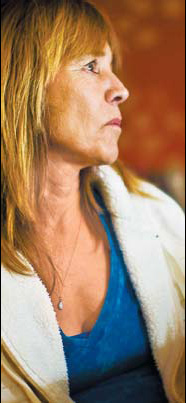 Penny Thomas, 56, who underwent stem cell treatment in Beijing in 2006, chats with doctors after returning to the Chinese capital this month.
He said regulations are aimed at protecting patients from clinics that claim to cure disorders but use unverified treatments and ineffective stem cells.
Luc Noel, a doctor with the World Health Organization based in Switzerland, also warned there is no guarantee stem cell treatments are safe.
"Globally, regenerative medicine and stem cell therapies remain as pre-clinical and, in some cases, clinical research. Moving to human application would be a major step," said the coordinator of clinical procedures under the WHO's essential health technologies department. "Before this happens, more scientific data is required, which must undergo peer review and be made available to the international scientific community.
"Given high health risks, the WHO does not recommend clinical trials on foreign medical tourists, who may be vulnerable to abusive practices."
Thomas returned to Tiantan Puhua Hospital this month with her friend Richard Jewell, 54, a fellow Parkinson's sufferer who plans to undergo the same stem cell treatment.
Jewell, who worked as a park ranger alongside Thomas in Colorado, said the decision to come to China was difficult but he was willing to do almost anything to improve his quality of life.
"I've spent my life savings to come out here. I wish I could have just had this treatment in the US," said a nervous Jewell, who talked to China Daily four days before the start of the
5-week course. He said he paid almost 220,000 yuan for the treatment.
The fact people are willing to go to such extreme lengths highlights the need for stricter regulations and supervision, argued Qiu, who also sits on the health ministry's national ethics committee.
"The rules issued in May do not go far enough. The ethics committee is now drafting guidelines in which all adult stem cell treatments, except the already confirmed treatment of leukemia, must pass clinical trials after they get approval from State Food and Drug Administration," he said.
The clinical trials could take as long as five years to complete, he added.
His call for stricter rules was supported by a report released in September by Bionet, a panel of 30 Chinese and European doctors, lawyers and bioethicists. The report, which was three years in the making, called for a global clampdown on all stem cell treatments.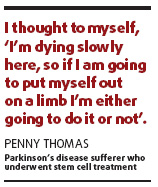 For Qiu, one of the authors of the Bionet report, the biggest concern is for people like Jewell who fly across the world and spend large sums of money on a treatment that may not even work.
"Today they feel better, tomorrow they may feel worse. Even if their symptoms disappear, was it because of the injected stem cells or simply by natural recovery? The method these doctors use now is trial and error. They promise nothing," said the professor.
Despite Qiu's concerns, Thomas said the treatment is continuing to work for her three years on. "If I had the chance to do it again, I would do it in a heartbeat," she said.
For doctors at places like Tiantan Puhua Hospital, where Thomas and Jewell were treated, the health ministry's new regulations have received mixed feelings. While medics nationwide readily support the legislation, many working at centers that have offered the stem cell treatments for more than five years fear they will be forced to halt the procedure if they cannot pass clinical trials, regardless of any documented success. Hospitals were scrambling to prepare applications in November for government approval to carry out the treatments.
Vivian Wang, marketing manager for Tiantan Puhua Hospital, said she hopes the authorities will recognize not all clinics operate under unsafe, unproven conditions, but admitted that hospital executives were "nervous" about the regulations.
"I'm afraid the government will close down all of the clinics," she said, adding that hospitals could only wait to see if they get the green light to continue offering the service.
"We really don't know how long it will take the government to finish their checking procedure."
Wang has been working with doctors since the beginning of the year to gather the necessary materials to prove the treatments are successful. She said they have prepared documents outlining previous cases, an in-depth report on how they conduct the treatments, information on specific cases and research on how stem cells can be used to treat specific diseases.
"We will give the application to a team of government specialists, who will look it over and then visit our hospital," said Wang. "They will decide if we get a license or not."
But the guidelines to determine suitable clinics have yet to be defined, said Bo Cheng, deputy director of business development at the Beijing-based Wu Stem Cells Medical Center, which specializes in stem cell implantation.
"Nobody knows the criteria yet, but everyone that applied must think they meet the standard," he said.
Hospitals that do not make the grade will be barred from carrying out the treatments, possibly making it harder and more expensive for people like Thomas and Jewell to get the help they desperately want.
Shan Juan contributed to the story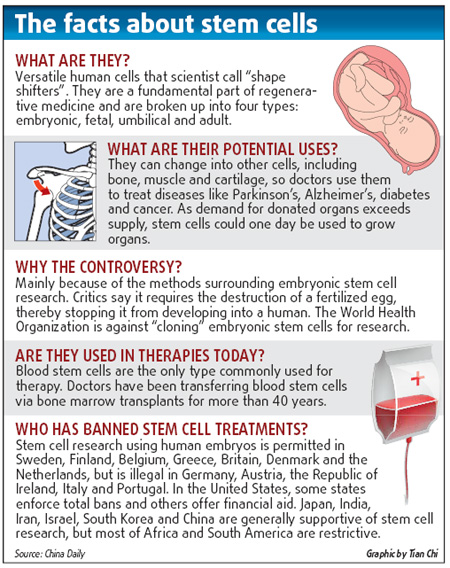 (China Daily 12/24/2009 page7)