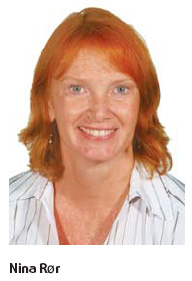 Editor's note: China and Norway have made considerable progress in nurturing joint environmental protection initiatives between the two countries. Nina Rr, the environmental counselor for the Norwegian embassy in Beijing, spoke to China Daily about the issues that unite the two nations.
Q: How would you describe the current status of Sino-Norwegian cooperation on environmental protection? How do you expect bilateral relations in this area to develop in the future?
Nina: Norway and China have had constructive and fruitful cooperation for almost 14 years. This cooperation has been useful for both parties and has resulted in a common understanding and a strengthened capacity for meeting important environmental challenges.
China is an important country with regard to the environment and climate change. China's efforts to address serious climate change and environmental problems are impressive, however, there is still some way to go. Norway looks forward to continued collaboration with China on these issues.
Q: What are the challenges and opportunities for the two countries in expanding and deepening further cooperation with regard to climate change and environmental problems?
Nina: Norway and China signed a revised Memorandum of Understanding on Environmental Cooperation last year. A new mechanism was then established. Annual meetings are now held at director general level. This structure will be used to discuss policy areas of common interest, issues on the international agenda and to give policy guidance for further environmental cooperation between our two countries.
In this way we hope to strengthen coordination between project cooperation at a local level and meeting environmental challenges at an international level. The first annual meeting was held in Norway in April. This included a field trip to Svalbard, where the delegation from the Ministry of Environmental Protection saw firsthand the impact of climate change on Svalbard and how long-term pollution has affected the area.
Q: How can China and Norway work together to make sure the two sides are a global model for close cooperation? What lessons can we learn from the past in this regard?
Nina: Sino-Norwegian cooperation is very much based on project cooperation, with technical experts from both sides working together to address specific issues, such as mercury contamination, persistent organic pollutants and pollution control. Competence building and capacity building are the keywords here. We believe this is a very fruitful way to cooperate.
Q: What is your view on the Sino-Norwegian project for the environmentally sound management of hazardous and industrial wastes in cement kilns in China? What is your expectation of the outcome of this project? What do you think the project will bring to the two countries and enterprises involved?
Nina: The cement kiln project is a win -win project with huge potential. China struggles with rising amounts of waste and hundreds of incinerators are now at the planning stage. This causes considerable worry among local residents. Hazardous waste is harmful both to the environment and to people's health. China has become the largest emitter of CO2 gases and cement production is responsible for almost 20 percent of China's total emissions. By using hazardous waste in the production of cement, the need for both coal and raw materials will be reduced. The advantage is an increased capacity for waste and hazardous waste treatment, improved energy and resource efficiency, as well as a significant reduction of green house gas emissions due to the reduced consumption of fossil fuels and limestone.
Q: What other projects regarding climate change and environmental protection are on the agenda for future joint initiatives?
Nina: Norway supports a number of projects that contribute to China's implementation of global environmental conventions. These involve Norwegian and Chinese partners mainly in the area of environmental management. Examples of ongoing projects include improving environmental planning effectiveness in five-year plans, strengthening the ability of provincial environmental decision-makers to reduce mercury pollution and persistent organic pollutants, developing provincial strategies for climate change and using hazardous waste in cement kilns in order to replace coal and securing the environmental sound management of hazardous waste.
Also in the pipeline are two projects related to climate change, one on co-control strategies for reducing both green house gas emissions and air pollution and another in the interface between climate change and biodiversity. Ecosystems play a crucial role both in adapting strategies for climate change and in mitigation efforts, such as afforestation.
(China Daily 12/23/2009 page12)