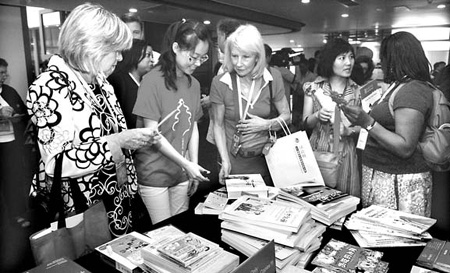 Overseas school representatives choose Chinese teaching materials at the Office of Chinese Language Council International (Hanban) during a China tour. Jia Ning
Of the various Chinese teaching materials on display at the Exhibitions of Resources of Confucius Institutes and World Languages, Fun with Chinese sits inconspicuously on a bottom shelf. But its executive editor Xu Yang introduces it with much relish to visitors.
Written by four experienced Chinese teachers, Fun with Chinese is the first and only Chinese textbook series of the Foreign Language Teaching and Research Press (FLTRP) targeted at Chinese primary and secondary school students in North America. About 1,600 copies are being used in three Chinese schools in the United States.
"We are also considering publishing Mandarin learning materials for non-Chinese school children abroad," Xu says.
A highlight of the just-concluded Fourth Confucius Institute Conference in Beijing, the exhibitions presented more than 400 kinds of Chinese teaching materials, developed by 140-odd publishing houses at home and abroad.
China has been seeing a craze for English education for more than a decade. Now, it is looking at promoting Chinese teaching to primary and secondary schools abroad.
This year's conference discussed ways to intensify Chinese learning at a community level. One important approach, it was decided, was "to engage school children and their parents with diverse Chinese programs", says Xu Lin, director-general of Hanban (Office of Chinese Language Council International) and general director of the Confucius Institute headquarters.
At present, there are 272 middle-school Confucius Classrooms around the world, besides Chinese courses being offered in more elementary and secondary schools in countries such as France, Thailand, Australia and the United States.
In addition to sending more competent teachers, the conference also appealed for the quick development of multi-language and multi-media Chinese teaching materials suitable for children abroad.
Despite a financial crunch, the US state of Minnesota has opened 12 elementary and middle-school Confucius Classrooms, where one teacher from Beijing's Capital Normal University teaches every year.
"Yet, of all the 4,000 volumes of teaching resources recommended by Hanban, I find that just one third of them, at most, are useful. And only two books wind up being well-received by the young learners," says Wang Yu, assistant director of Confucius Institute at the University of Minnesota that helped establish the state's Confucius Classrooms.
Wang says the contents are difficult to comprehend for local children. For instance, many scenes are set in Chinese cities such as Beijing and Shanghai, and characters talk about Peking ducks and hutong, with which the children are not familiar as many of them have never visited China.
FLTRP's Xu says their textbooks take into account the learning needs of local Chinese learners. "Our writers, overseas Chinese themselves, have been teaching in weekend Chinese schools for decades. They use phrases and dialogues that are drawn from daily life to which children and teenagers can connect," she says.
A salesman from a Hong Kong-based publishing company, who declined to be named, says: "Many exhibited Mandarin textbooks still look quite uniform in design and feature dozens of lines on a single page. That's quite a Chinese style and may not attract children abroad. And the folktales and songs are too old to appeal to Chinese children, not to mention their overseas contemporaries," he says.
(China Daily 12/17/2009 page20)