Condolences to Wall Street's finest. The huge cash bonuses they have longed for and savored are history.
Goldman Sachs Group Inc, the profit king of the securities business, has made sure of that. Goldman last week said its 30 top executives will get their traditional year-end bonuses in stock instead of cash - and the shares have serious restrictions.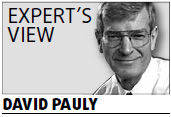 Recipients won't be able to sell the stock for five years, though it vests in three. And they might lose the shares if Goldman determines later that the executives earned them by taking heedless risks. Goldman shareholders now will also be allowed to vote on the company's pay, though their yes or no won't be binding on management.
Bonuses per se aren't dead. Goldman and rivals Morgan Stanley and JPMorgan Chase & Co will dish out $29.7 billion in 2009 bonuses, analysts estimate. Some of that should be in cash, and the stock handed out will, with luck, be worth a nice sum years from now.
But the time-honored bonus culture featuring large cash payments needed to end. Even a Goldman Sachs director admitted that the day before the firm's new bonus arrangement was announced. William George, who is also a professor at Harvard Business School, said the practice "has got to move on", and that compensation needs to be closely tied to long-term performance.
Instead of 60 percent of investment firm pay coming from year-end handouts, more will be in salary. And there may be less of that too, because of the pressure on banks from the government and myriad critics to become sounder institutions by raising capital and taking fewer risks. That will reduce profit and the ability to pay.
The bonus era seemed over a year ago, when Wall Street eliminated the payouts after those horrendous losses on mortgage-related securities. Then this year, Goldman began earmarking a percentage of its 2009 profit, which has been large, for bonuses. For the first nine months of this year, the amount was $16.7 billion.
There were outcries from Washington to Walla Walla from folks who thought Goldman, as a recipient of government bailout money, should have been more circumspect.
The firm tried to justify the resurrection of bonuses by claiming repeatedly that it hadn't needed a rescue. That was nonsense, in light of the facts.
Goldman got a $10 billion investment from the government under the Troubled Asset Relief Program, which it has repaid, and has sold debt guaranteed by the Federal Deposit Insurance Corp.
Perhaps more important, it also raised about $16 billion by selling preferred and common shares.
Bonus-happy securities firms are under the gun elsewhere. The UK last week said that banks there must pay a one-time tax of 50 percent on discretionary bonuses exceeding 25,000 pounds ($40,500). Nicolas Sarkozy, the president of France, said he too would tax bonuses this year. French officials said the levy would be on payments of more than 27,000 euros ($39,400).
Funny thing is, banks are hurrying to pay back government investments to escape curbs on their pay imposed by politicians. Bank of America Corp sold $19.3 billion of new securities to help repay $45 billion to the US.
The bank diluted its per-share earnings base, only to find the day of huge bonuses gone.
David Pauly is a Bloomberg News columnist. The opinions expressed are his own.
(China Daily 12/16/2009 page16)