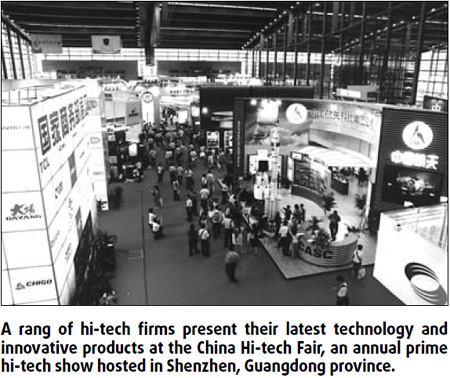 GUANGZHOU: Guangdong has announced plans to accelerate the construction of its hi-tech industrial development zones. The southern coastal province believes this will provide a significant boost for its strategic development, massively enhance its capacity to promote innovation and secure its future industrial competitiveness.
As part of this initiative, the province has issued guidelines aimed at fast-tracking the development of the zones. This ambitious proposal will see its 16 State-level and province-level economic zones catapulted to a world class standing within 10 years.
According to the guidelines, the hi-tech industrial zones are expected to achieve an annual industrial output of 2.5 trillion yuan by the year 2012, an increase of over 25 percent compared to 2008.
Overall hi-tech industrial output is expected to reach 2 trillion yuan by 2012, with R&D funding increasing to 4 percent of the total sales revenues.
The province plans to turn the State-level hi-tech industrial development zones in Guangzhou and Shenzhen into nationally leading hi-tech industrial centers within five years and truly global players by 2020. It will also systematically develop the remaining State-level zones in Zhuhai, Zhongshan, Foshan and Huizhou, as well as the province-level zone in Dongguan, into innovation-led science and technology parks and centers for the development of proprietary technology.
The province will also seek to evolve the existing province-level hi-tech zones in Dongguan, Zhaoqing and Jiangmen into State-level centers.
Li Xinghua, director of Guangdong's science and technology department, is optimistic about the opportunities opening up for the province. He says: "The industries in the emerging and hi-tech industrial development zones offer greater added value than in traditional sectors. They are more technology-intensive and more competitive. This is the key reason why the province is accelerating the development of these zones."
According to Li, about half of the province's hi-tech firms and more than half of its R&D facilities are located in these development zones, which also employ a third of the region's scientific and technological professionals.
The zones also accounted for 46 percent of the province's total R&D spending during 2008. This represented an R&D investment of 9.2 percent of the zone's industrial output, a figure seven times higher than that of the provincial average.
Highlighted sectors
According to a report on regional innovation capacity in China, recently issued by the Ministry of Science and Technology, Guangdong comes second only to Shanghai in terms of resources in this sector. The province is also ranked number one nationally for corporate innovation.
Commenting on the report, Li says: "This underlines that Guangdong has a solid foundation for accelerating its industrial upgrade process and excellent prospects for achieving its long-term goals."
These goals now involve clear targets in a number of sectors, including telecom equipment, precision manufacturing, new materials, bio-medicine, new energy and energy efficiency, software, integrated circuits and resource and environmental protection.
The local government guidelines also make recommendations for the development of a number of emerging industries, notably next-generation telecoms, next-generation Internet, new types of electronic components, special types of functional materials, renewable energy, marine equipment, aviation and astronautics.
These sectors will be nurtured alongside a number of rapidly-developing tertiary sectors, especially modern information services, industrial innovation, service outsourcing, financial services and logistics.
The province has earmarked 400 million yuan in the 2011- 2012 period to boost R&D initiatives in the hi-tech industrial development zones and enable them to secure a number of high-end projects. This will include incubating projects with their own IPR, as well as accelerating the industrialization and commercialization of R&D success stories across the zones. The budget for this year is 100 million yuan.
Guangdong established its first hi-tech industrial development zone in 1991. Since then it has founded six State-level and 10 province-level zones across the province, primarily in the delta cities of Guangzhou, Shenzhen, Zhongshan, Zhuhai, Huizhou, Foshan, Dongguan, Jiangmen and Zhaoqing.
The 16 State-level and province-level zones generated an added industrial value of 111.21 billion yuan and realized exports of $28.16 billion in the first half of this year, an increase of 23.4 percent and 27.5 percent respectively over the same period in 2008.
The average GDP per sq km was 108,375 yuan across the 16 zones in 2008, 23 times higher than the figure in the delta region and 54 times larger than the provincial average.
The per capita GDP was 207,700 yuan in the 16 zones last year, four times that of the average in the delta region and five times that of the average in the province.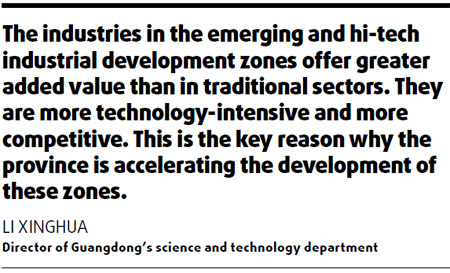 (China Daily 12/10/2009 page14)