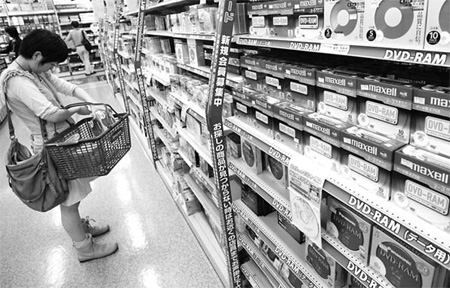 A woman browses through DVDs manufactured by Hitachi Maxell Ltd at a shop in Tokyo. The firm aims to reverse a multi-decade strategy of expanding into everything from televisions to vacuum cleaners and nuclear reactors. Bloomberg News
TOKYO: Hitachi Ltd, the unprofitable Japanese company with 927 business units, may need more funds to finance a revamp after selling a record 350.7 billion yen ($3.9 billion) in stock and bonds, analysts said.
The unprofitable company should spend more money to finance factory closures and job cuts to focus on growing businesses such as trains and medical systems, said Amir Anvarzadeh, senior Asian equity salesman at BGC International in London. Hideyuki Suzuki, a Tokyo-based analyst at SBI Securities Co, also said Hitachi needs extra funds to reorganize.
Hitachi aims to reverse a multi-decade strategy of expanding into everything from televisions to vacuum cleaners and nuclear reactors after reporting a record loss for a Japanese manufacturer last fiscal year. The company plans to reduce about 200 units, merge its unprofitable chip subsidiary with a rival and relocate workers in its plasma-display and automotive units to cut 260 billion yen in costs this year.
"Hitachi has been a very sleepy giant, who hasn't been on the forefront of restructuring," Anvarzadeh said. "They will absolutely have to raise more money, because the way the group is situated results in so much overlap."
Hitachi, Japan's fourth-largest company by revenue, fell 0.8 percent to close at 236 yen on the Tokyo Stock Exchange, extending its drop to 32 percent this year. On Monday, the company said it sold 250.7 billion yen in stock and 100 billion yen in convertible bonds to fund new businesses and pay off debt.
Hitachi isn't currently planning additional share sales, spokesman Masanao Sato said. Monday's offering will help bolster capital to about 13.5 percent of assets from 10.9 percent, Sato said. That's short of the 20 percent target Chief Financial Officer Takashi Miyoshi said in July the company should aim for in a "few years".
Japanese financial institutions and investors track the capital ratio as a key measure of viability that influences companies' ability to raise money, said Fumihito Gotoh, head of Japan credit research for UBS AG in Tokyo. Panasonic Corp, Mitsubishi Electric Corp and Sony Corp have ratios exceeding 20 percent, according to their latest financial reports.
Hitachi is forecasting a fourth straight annual loss after the global recession drove the company to a record 787.3 billion yen in the 12 months ended March 31. The reorganization may help Hitachi post profit next fiscal year, according to analyst estimates compiled by Bloomberg.
"The company still has unresolved issues and a lot of work ahead," said Takeo Miyamoto, a Deutsche Bank AG analyst who has a "hold" rating on Hitachi. "The share sale will help bolster the company's prospects short term, but the move is really aimed at the credit ratings agencies as a show of good faith."
Bloomberg News
(China Daily 12/09/2009 page16)