Rise of the dragon decade's most read news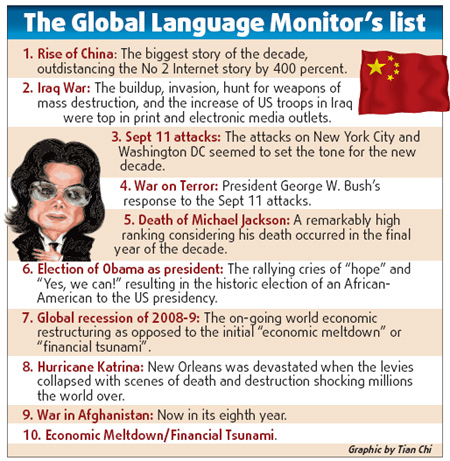 A US media tracker has listed "the rise of China" as the most read news story of this decade, a development that Chinese experts say is the latest attempt by the Western media to tout China for their own good.
The ascent of China as an economic superpower has attracted the widest coverage since 2000, surpassing the Iraq War and Sept 11 attack on the US, according to an analysis by the Global Language Monitor.
"It is with little surprise that its (China's) ongoing transformation has topped all other news stories in a decade bespotted by war, economic catastrophe and natural disasters," Reuters quoted Paul JJ Payack, president of the Global Language Monitor, as having said.

Today's Top News
Editor's picks
Most Viewed