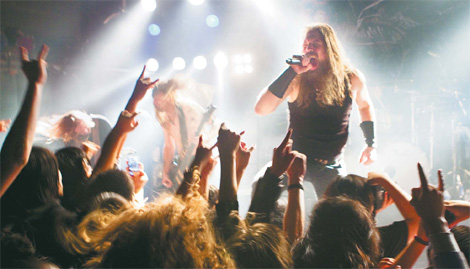 Swedish heavy metal band Amon Amarth entertains music fans at Mao Livehouse. Chip Rountree
"All right, Beijing!" screamed Johan Hegg, lead singer of the heavy metal band Amon Amarth, to an audience of die-hard fans toward the end of their set at Mao Livehouse on Dec 1. "It's time to bleed... for ancient gods!"
The band, whose music is classified in a sub-category of heavy metal music known as Viking metal, then launched into the song Bleed for Ancient Gods from their 1999 album. The five long-haired, blond Swedes clad in black and leather were then enveloped in clouds of smoke and blue light and began to head bang, their heads swirling in unison.
Hegg stepped forward to address the audience. "Beijing!" he growled. "Show me your horns!" The crowd went wild. Dozens of arms shot up into the air with the pronged hand signal commonly associated with heavy metal music. They soon began to chant.
Before the show, I spoke with 20-year-old Siyao, or Cook, as he prefers to be called, and his 18-year-old friend Wanfei. Both grew up in Beijing and they are in school studying sound engineering and guitar. Cook said that he first became interested in heavy metal after he heard the band Kiss about 10 years ago.
"I thought they were very cool," he said, nodding emphatically enough to cause his long black hair to rustle.
For Wanfei, it was Ramstein - a German hard rock band. He zips open his leather jacket to show the black Ramstein T-shirt beneath. For both Cook and Wanfei, heavy metal music represents freedom.
While Cook admits his parents are not big fans of his appearance, Wanfei's had a different reaction: "They understand it, I think. They have also heard the music and they actually like it a little."
The majority of the 200 or so people who descended on Mao Livehouse that night were in their late teens and early 20s. While many who came sported long, untamed manes, leather jackets, Slayer T-shirts, black leather jackets and boots, there were also exceptions that defied the stereotype.
Peach is a 22-year-old student now home after studying abroad at the Savannah Institute of Art and Design in Georgia. "I really loved the show," she said as she waited in the lobby with friends, rolled up poster in hand waiting for an autograph. She has been tracking the development of heavy metal bands in China since she was a teenager.
"When I was in high school, I went to all the Midi festivals," she recalled. "I remember the foreign band Dead Guy, from Germany. They came in 2006. They were the second European heavy metal band to come to China - the first was Labyrinth in 2005, from Italy."
"They came and were really impressed with the enthusiasm in Beijing and they said they were going to go back to Europe to tell everyone to go to China," she said, laughing.
"As a little kid you start with punk, then you move on to metal," said Peach.
Jeanine, 22, from Switzerland, who is in Beijing for one semester as an exchange student, said she was surprised by how few foreigners there were at concerts by both Amon Amarth and Arch Enemy, another Swedish metal band.
"I've heard that Chinese people really like hard stuff, death metal, heavy metal," she said. "A Chinese guy was telling me that concerts are really expensive for them, so many of them work just to be able to afford to go."
"Back home we have a lot of different places to listen to metal," she explained. "For instance, the Wacken Festival in Germany is the biggest metal festival in the world. The Chinese metal band Voodoo Kungfu was the first Chinese metal band to play at the festival."
Tang Dynasty is the oldest and perhaps the most well-known Chinese heavy metal band that gained fame in the mid-1980s and was one of China's very first rock bands. Today, bands like Beijing's Zhixi, or Suffocated in English, and SUBS show that heavy metal is resonating with Chinese youth.
While the affordable prices and availability of pirated CDs and DVDs have given aficionados access to heavy metal, the growth of online genre and print magazines like Painkiller Heavy Music Magazine show there is a notable and loyal market for heavy metal music and culture.
Still, information abroad on the state of the heavy metal scene in China is scant.
Hegg said he knew little about the scene until he arrived. "Virtually nothing," he said. "I've heard of bands coming here, but little else."
"To be honest, just before the show I thought this is not going to be good," he said. "It seemed like there were so few people out there, but then when we got on stage I thought it was really good. I had a good time. We all did."
"We were actually kind of worried (about the price of tickets) because we felt it was high (120 yuan at the door), but it costs a lot to bring a band over here. We're really grateful to have people come."
So grateful that the band came out for an encore and played two songs. Before the final encore, Hegg told the audience "there is a Viking in every one of you".
Josh Feola, 23, from San Antonio, who works as a project manager for a business startup in Beijing, said this was his first time at a metal concert in China and the second metal show of his life. "I thought it was very theatrical," he said. "I've been to a lot of shows here (at Mao Livehouse), but this one had the most devotees. The crowd here really seems to know the band."

(China Daily 12/07/2009 page16)