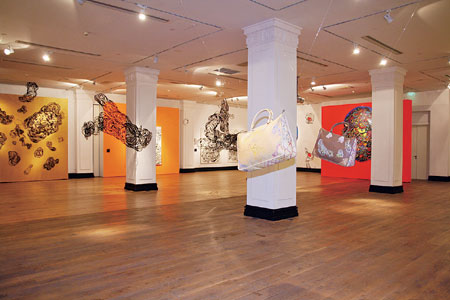 Though Belgian "tattoo" artist Jean-Luc Moerman doesn't always use the human body as his canvas, he still manages to produce some of the most eye-catching designs.
Working on a multitude of other surfaces, his tattoo-inspired work can be found on skin, paper, cloth and buildings. Featuring a celebrity collection of portraits that include old Chinese movie stars, the 42-year-old is presenting his first solo exhibition in China at 18Gallery on the Bund.
Moerman developed his abstract style a decade ago after falling in love with tattoo art, but failed to find anyone willing to let him permanently ink their bodies.
Yet while the tattoos drawn on the paintings of Bob Marley, Kate Moss and Cindy Crawford appear quite natural-looking, the ones etched on the portraits of Shanghai celebrities like Zhou Xuan and Ruan Lingyu seem strangely out of place at first glance.
But it is this obtrusiveness depicted by the tattoos drawn on the stars that Moerman described as enhancing to the paintings.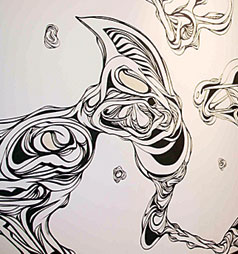 "The tattoos make a person look more lively and interesting," said Moerman, who also painted similarly inspired designs for a limited edition of Longchamp handbags last year.
18Gallery director Magda Danysz characterized Moerman's free-flow art style as well-suited to Chinese preferences.
"I found the flow of power in Jean Luc (Moerman)'s paintings similar to that in Chinese calligraphy, so I think people in China are likely to understand his art," she said.
Moerman's exhibit also includes a series of large black-and-white paintings, a collection of abstract pieces made from aluminum and a three-dimensional installation.
Moerman, who grew up painting on the streets as a child, has widely exhibited his works across Europe and Japan. He has previously covered the entire surface of a building in Tilburg in the Netherlands with his abstract drawings, creating a uniquely surrealistic atmosphere.
Director Danysz summed up Moerman's style of panting as something resembling that of "virus-painting" - a term used to describe an abstract art form that lends to great effect.
"From canvasses to walls, to the most unexpected things, Moerman is devoted to creating a real environment," she added.
Along with displaying a collection of Moerman's tattoo designs, the gallery is also showing a sample of tattoo works from other foreign and Chinese artists.
Until Dec 21
18Gallery
4F, 18 Zhongshan Road E1
中山东一路18号4楼,18画廊
Tel: 6323-8099 ext 3001
(China Daily 12/05/2009 page14)