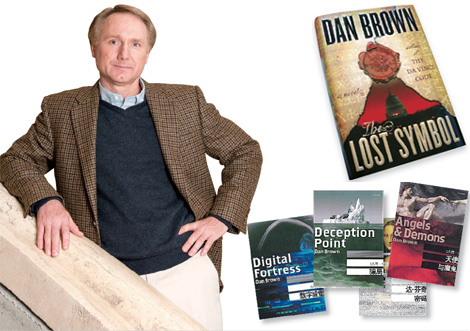 A Chinese website has removed a translation of Dan Brown's latest best-seller following complaints that it used copyrighted material without permission.
But some observers say the incident better illustrates the ease of posting copyrighted material on the Internet than of any lingering problems with Chinese piracy of copyrighted works, a big problem in the 1990s.
A spokeswoman for Yeeyan, which began in 2007 as a nonprofit open translation site but now runs advertising alongside thousands of translated articles, told China Daily it had deleted a translation of Brown's blockbuster The Lost Symbol.
Released in the US in September to mediocre reviews but to huge sales - 1 million copies were sold the day it hit stores - the book will be published in an authorized print translation in China "probably" in late December, said Liu Qiao, director of the Overseas Cooperation Department at People's Literature Publishing House.
The Beijing-based book company bought the rights to publish and distribute the translation of Dan Brown's The Lost Symbol in simplified Chinese in the mainland about three years ago.
But a group of volunteer translators used Yeeyan's site to translate the latest book and posted PDFs of the translation on a linked site called Innobook.
"Our users started a translation group on Yeeyan, since Yeeyan provides tailor-made functions to encourage translation and discussion as a group," said Wang Yixin, a spokeswoman for Yeeyan. "All this happened over the weekend. The next Monday, when we noticed the activity, we contacted the users and ceased it immediately."
Yeeyan also contacted the book's Chinese publisher "to apologize and discuss further cooperation", she said.
Though Yeeyan pulled the translation, Wang added, "It is one-sided to claim that crowdsourced translation violates copyright", referring to the practice of volunteers working online to achieve a common aim.
"It is the trend for the whole publishing industry - they are moving forward with an attempt to leverage the Internet power rather than to go against it," Wang said.
Liu Qiao, who is also the editor of Brown's Chinese translation, said it is definitely "a violation of copyrights" if someone posts or formally publishes translations of Brown's works using the names of the People's Literature Publishing House and the Chinese translators.
Before the People's Literature Publishing House turned out Harry Potter and the Deathly Hallows in October 2007, pirated copies had surfaced in streetside bookstalls, using the publisher and the translators' names, Liu recalled. The General Administration of Press and Publication (GAPP) issued special orders to crack down on piracy of the Harry Potter series.
But Liu added that it's fine if some netizens post a limited amount of Brown's translated works as a means to enhance interest in English and translation.
Brown is tremendously popular in China, where his book The Da Vinci Code became a best-seller when it was published there in 2004 by Shanghai People's Publishing House. An estimated million-plus copies of that title have been sold in China.
Translated books occupy a large share of the books market in China. Publishers introduced more than 15,000 titles under copyright agreements with their overseas counterparts. One in four books originate from the US, according to GAPP.
Liu said that the People's Literature Publishing House purchased the copyrights to The Da Vinci Code in October 2008 and to Digital Fortress, Angels and Demons and Deception Point, other titles by Brown, much earlier. This year, new editions with fresh front covers were launched after correcting some mistakes in the first editions.
"Each of Brown's translated books has sold at least 100,000 copies," Liu said.
Zhu Zhenwu, a professor of British and American literature with Shanghai University, has been the chief translator of Brown's works in China. Zhu also did extensive research on the works of William Faulkner and the Qing Dynasty writer Pu Songling.
Liu said Zhu and two other translators have finished Brown's The Lost Symbol and the publishing house is busy preparing to launch the book in China at the end of this year.
Brown's publisher, Doubleday, referred questions to the author's agent, Heide Lange, who was unavailable to comment about the website's translation.
The episode with Yeeyan, however, points to copyright problems with the Web rather than with China, according to Paul Goldstein, an author and professor at the Stanford Law School who specializes in intellectual property.
"Historically, this has been a huge problem in China," he said. "But it seems to be getting better, so this is unusual. China views itself as bound by the international norms of copyright and is becoming a significant player on that stage as a copyright owner itself.
"(Copyright violations) happen everywhere. It is not surprising that it's been taken down, nor will it be surprising if it pops up somewhere else in China on some other website. It's hard to control."
In the late 1990s, Goldstein had one of his own books, Copyright's Highway, pirated in China. He learned of the violation when a student brought a pirated copy to California. But print piracy has largely given way to digital piracy in the last decade, he said. Unauthorized posting on the Web is a problem not only in China, but also in the US, Germany, the UK, France and other countries, he said.
"Digital piracy is even easier to do than mechanical piracy," said Richard Curtis, a literary agent and e-book publisher in New York. "It's much cheaper, the profits are higher and the opportunities for getting nailed for it are very small.
"It's a multibillion-dollar business," Curtis said. "It's easier than robbing a bank. It's easier than stealing a car. It's almost a crime without punishment. Why wouldn't any smart criminal turn to it?"
Liu Bin, deputy director-general of GAPP, said that China is speeding up the crackdown on piracy in new media during a recent meeting with Francis Gurry, director-general of the World Intellectual Property Organization, according to a recent report by the Xinhua News Agency.
Several online piracy cases in Suzhou, Shanghai, and Qiqihar in Heilongjiang province, have been reported at the administration's website. A couple at a university in Qiqihar were arrested on charges of selling some 4,000 unauthorized copies of books from Taiwan and Hong Kong via their online bookstore registered at Taobao.com.
The administration has made it clear that e-business platforms such as online bookstores will suffer legal consequences if they engage in piracy.
Regulations will soon be issued regarding online distribution of books and other publications.
(China Daily 12/01/2009 page19)