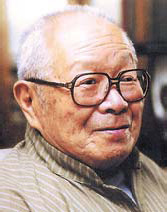 Renowned scholar of traditional Chinese culture and leading antique collector Wang Shixiang, who was a researcher at the Palace Museum in Beijing and later the State Administration of Cultural Heritage, died of chronic diseases at 95 on Saturday.
He was known for his broad range of studies that included classical Chinese furniture, ancient Chinese lacquer ware, music and bamboo carvings as well as miscellaneous traditional crafts.
He contributed to China Daily regularly during the 1980s.
China Daily
(China Daily 12/01/2009 page1)