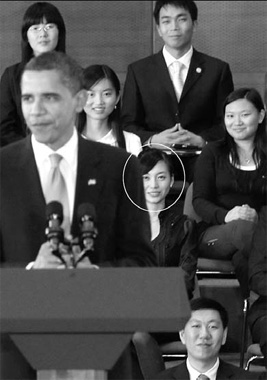 Wang Zifei (circled) created a stir by appearing in US President Barack Obama's recent speech in Shanghai. China Daily
SHANGHAI: A young woman caught taking off her coat on camera at US President Barack Obama's town hall meeting in Shanghai earlier this month has been propelled into temporary stardom, as netizens have both admired and harassed her.
As of yesterday, Wang Zifei's blog clocked more than 1.3 million hits.
On Tuesday, the Shanghai Jiaotong University graduate was forced to quell the online heat building up over her attractive appearance at the US president's speech at the Shanghai Science and Technology Museum on Nov 16.
Wang titled a blog entry "What has President Obama brought to me?" and pleaded netizens to stop talking about her personal life.
The student caught the attention of the public when a number of photographers spotted her wearing a red coat behind Obama.
Cameras recorded the entire process of her taking off her coat, and the photos were soon put online and spread like wildfire.
More than 6.9 million results have showed up on the Internet search engine Google over the "Obama Girl in the Red Coat", with countless other discussion forums on the woman.
"She was so beautiful! She sat there so elegantly, with such a variety of poses," online postings went.
A number of online users reportedly started to harass Wang.
Some asked why she chose to sit directly behind Obama, in front of the cameras, and behave in a way "unbecoming of a student".
Wang was upset in her online postings over the incident and comments.
"It totally disturbed my study and life. I received many calls recently," she said.
"I told my friends not to reveal anything about me, and the rumors will die eventually. However, my silence led to even more suspicion," she wrote.
"I kept a professional posture because I knew that the meeting would be broadcast worldwide, and we students' images represented our school and our country."
She asked netizens to stop spreading her photos and inquiring about her personal life.
She hoped she could get back to normal life quickly.
"I began to play the violin when I was 6. I also acted in plays and hosted shows all out of my own personal interests," Wang said.
"But I don't want to be famous this way. I'll have my own career path and won't go into the entertainment circle, so I rejected many TV stations' offers."
(China Daily 11/26/2009 page4)