SHANGHAI: A leading university in the country's financial hub has launched a special business program catering to students from wealthy families who are expected to take over the reins of their family's enterprises.
The program by the overseas education college of Shanghai Jiaotong University will include cooperation with the United States Military Academy at West Point, Cambridge University, as well as business schools around Europe.
"I think this project will soon be popular as it's very timely," said Wang Hongxin, the executive dean of Overseas Education College at Shanghai Jiaotong University.
Over the past 30 years, China has seen rapid development of private enterprises, and as the first generation of entrepreneurs nears retirement age, the time for their successors to step forward is coming.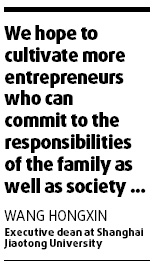 In recent years, however, the phrase "rich second generation" has hit the headlines, associated with negative news such as car races on city streets and drunk driving.
"We believe that entrepreneurs can be trained with the proper approach. We hope to cultivate more entrepreneurs who can commit to the responsibilities of the family as well as society, and meanwhile master advanced business knowledge and management skills," Wang said.
The courses will last for three and a half years, and contain both theoretical and practical aspects including West Point leadership, family business challenges and entrepreneurship.
The courses cost about 129,000 yuan ($18,900) in China and about 212,500 yuan abroad.
Most candidates, now working at the executive level in their family business, are aged between 25 and 30, with a bachelor's or master's degree. More than half of them have an overseas education background, officials at the enrollment department said.
Niu Sifeng, 26, is now working at his family's corporate Luzhou food company as an executive assistant. He has registered for the study project.
"I know many friends in my position are very hard workers. We actually load on more pressure to force ourselves to make more effort," he said.
"I hope to develop a more international vision through the study, which can contribute to my family business."
Wen Jun, a sociology professor at East China Normal University, applauded such studies.
"The first generation entrepreneurs have limited capability to get involved in the current market competition due to their educational backgrounds," Wen said.
"The education of entrepreneurs can't rely only on family experiences. Self-development and professional institutions are necessary and important."
(China Daily 11/24/2009 page4)