Many good tidings from Obama's visit
Barack Obama is the first US president to visit China within a year of assuming office. This shows the importance he attaches to US ties with China.
In Shanghai, he saw how China had modernized. At an interactive session with youths, he saw the vitality of Chinese society and the diversity of viewpoints. In Beijing, he strengthened bilateral trust and working relationship with Chinese leaders. From his visits to the Forbidden City and the Great Wall, he got a firsthand feel of China's rich history. Therefore, he is expected to return home with a better understanding of China.
The focus of his four-day visit, however, was the Sino-US joint statement, which highlighted the areas in which the two countries have made huge progress. First, the statement redefines Sino-US strategic positioning. At a press conference after his meeting with Obama, President Hu Jintao reiterated the importance of building positive, cooperative and comprehensive bilateral ties, and asserted that the two leaders reach an agreement to define Sino-US relationship as a "partnership to work together and tackle challenges".
Second, the discussions on a large number of global issues, such as climate change, financial cooperation and counter-terrorism measures, reflected that Sino-US ties had elevated from the bilateral to the global level.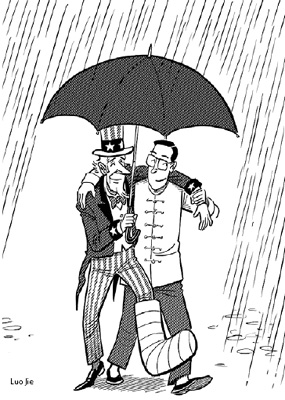 Third, the statement deals with more issues than expected, showing that the two sides are determined to expand their cooperation to other areas. They made concrete progress on issues such as student exchange programs and new energy development.
The two sides even agreed, on principle, on controversial issues such as the Taiwan question. Obama reaffirmed America's commitment to the one-China policy, and said he was happy to see the improvement in cross-Straits ties.
Before Obama's visit, China's pragmatic response had helped the two countries avoid policy fluctuations that usually follow the transition of power in the US. China established close contacts with American policymakers before he took office to avoid misunderstandings. Once he was sworn in as president, China and the US held several high-level meetings, including those between Obama and Hu. These have helped strengthen the base of Sino-US ties.
China has always believed in equal relationship. And its rise as an economic power provides material basis for the two countries to establish a truly equal relationship. Since China pursues a low-key and cooperative foreign policy, and its growth has not changed the peaceful nature of its strategy, making it easier for the US to accept its position on equal relationship.
Moreover, the financial crisis has dealt a harsh blow to the US, dragging down its real economy. Now the US economic recovery depends on China's rapid growth and cooperation, so Washington's interest in Beijing is bound to increase.
Obama announced his "smart power" diplomacy soon after assuming office. He emphasized the integrated use of soft as well as hard power to meet America's national goals. An important manifestation of his "smart power" diplomacy is multi-partnerships, which will help the US and China to establish a more substantive cooperation framework.
Many senior officials in the Obama administration are familiar with China's affairs. They understand full well the importance and complexity of Sino-US relations, and this will help them to adopt a rational and pragmatic attitude toward China.
Though Obama's first visit to China has been successful, some problems still confront the two countries. First, the global financial crisis has made the US take recourse to trade protectionism, given rise to more Sino-US trade disputes and worsened the trading environment.
Second, human rights remains a thorny subject between the two countries, and they have not yet reconciled their differences over the Tibet issue. Human rights is a political issue that plays a vital role in the stabilization of Sino-US ties.
Third, the US seems uncomfortable with the modernization of China's armed forces. And since China will continue to modernize its military for defensive purposes, US concerns will rise further.
Fourth, the two countries will continue to argue over cutting their greenhouse gas emissions, use of renewable energy and sharing the burden of fighting climate change.
Fifth, Sino-US dispute over the leadership role in East Asia is expected to come to the fore. The US has shifted its focus to Southeast Asia with an eye on China, because it is worried that intensive cooperation among East Asian countries could mean the end of its influence in the region.
Last but not least is the Taiwan question. Though cross-Straits ties have improved and the US, to some extent, has limitedly cooperated with China to curb radical secessionist elements on the island, the Taiwan question remains the most sticky point in Sino-US relations.
The Obama administration faces two special problems in policy coordination. The first problem is coordination within the government. Since Obama has some political celebrities in his decision-making team, the difference in their political orientation could make policy coordination difficult.
The second problem is coordination between decision-making teams and other political forces. Some political forces that earlier lent wholeheart supported to Obama's policies have begun opposing them now. This opposition could extend to his China policy. The diverse interests and different growth trajectories of social forces in the US could make its foreign policy coordination difficult, too.
The financial crisis and the failure of its foreign policy have resulted in the decline of America's strategic position. So the contradictions between the US and China in sharing responsibility to resolve bilateral or international issues will be more prominent because China is the main target of Obama's "smart power" diplomacy.
The problem of responsibility sharing could intensify because China is still a developing country, whereas the US wants to see it as a fairly developed economy that should shoulder greater global burden. The differences over sharing responsibility could thus become an important source of dispute between China and the US.
Nevertheless, in America's global strategy, China will continue to be seen first as a partner and then as a "problem". The US may perceive China's rise as a problem, but it needs China's help to tackle the financial crisis, combat terrorism, prevent nuclear proliferation and resolve other international issues. Since the US cannot resolve these issues alone, it will be prompted to stabilize Sino-US ties.
The author is a professor of international studies with the School of International Studies of the Renmin University of China.
(China Daily 11/20/2009 page9)
Today's Top News
Editor's picks
Most Viewed