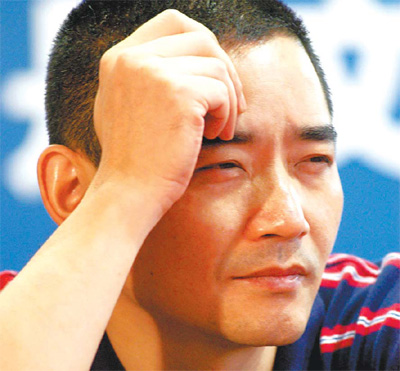 China's Su Tong, 46, won the prestigious Man Asian Literary Prize in Hong Kong yesterday, with his latest work, The Boat to Redemption, a realistic novel set during the "cultural revolution" (1966-76).
Its title, in Chinese, He An, means "river and shore", representing the worlds of two different types of people - those who live on steady ground are politically reliable; those who live on boats are "exiles" or politically questionable.
"I'm not sure if The Boat to Redemption can help overseas readers know more about China. It's just a novel centering on the fate of people caught in an absurd time," Su said in an e-mail interview, adding his upcoming novel will be set in contemporary China.
"A nation must have the courage to face its own history, whether it's glorious or shameful, beautiful or gray. Misunderstandings often come from hiding and evasion.
"After all, a novel does not stand for the truth of history, so I'm not afraid of misunderstanding."
The action takes place in a small town in eastern China where former town head, Ku Wenxuan, takes his teenage son into self-imposed "exile", while his wife and others denounce him and doubt if he is the real descendant of a revolutionary mother.
The legendary young woman died while smuggling pistols to Communist fighters. Her infant was tossed into the river but a giant carp carried it to an old fisherman. Years later, the fisherman identified Ku in the orphanage, because he had a fish-like birthmark on his bottom. Ironically, almost every man in town has a fish birthmark.
Su's portrayal of the protagonist turns surreal as Ku's quest for redemption becomes extreme, from self-castration to suicide. The story concludes with Ku's son finding a fish at the place where Ku threw himself into the river, carrying his mother's tombstone.
The story is told through the eyes of Ku Wenxuan's son, whose tension with his father drives the story and whose journeys between the boat and shore bring to life an absurd period of Chinese history.
Both of Su's parents come from a small island in the Yangtze River and Su was born and grew up by the river in Suzhou, Jiangsu province. It was a dream of his to write a novel themed on the river.
"I'm very sensitive to the word 'river'. Sometimes I get startled at the word, as if a fire was lit in my heart," he said in a speech at Peking University in September.
Su became an avid reader at 9, when nephritis confined him to bed. The newspapers pasted on the wall and ceiling were his first teachers, until his elder sister found banned foreign literature from friends and trash tips.
In the 1980s Su studied literature at Beijing Normal University, at a time when writers were seen as heroes. His first novelette was published in 1983, but it wasn't until four years later that his literary career took off. Su wrote about a mulberry garden, based on his early memories, but the draft was turned down by a number of publishers until an editor went to the restroom with a pile of papers to pass the time and spotted his talent.
"It was only 5,000 words, but it was a very bright spot. I discovered only then that novel-writing can be relevant to the heart and soul," Su said.
Su was concerned that his passion for literature would dim with age and promised himself that he would fulfill his dream of writing about the river before he turned 40.
However, it wasn't until three years ago when he took his daughter to visit their old home in Suzhou that he was inspired to start writing. They stood on a bridge littered with rubbish and a fleet of barges sailed by. "I hadn't seen the barges for years. When they went by my mind suddenly lit up. I realized that the story of the river should take place on a boat."
Though he has never lived on a boat and now lives in Nanjing, capital of Jiangsu, Su is fascinated by boat life, its colorful and earthy expressions. Su depicts sailors as more lenient and uninhibited than bank dwellers.
"What makes the novel different is that for the first time, I was on a mission to address a specific historical period," Su said.
Su often compares his memories to a box of jewelry, in which lies a bullet. This was inspired by his frightened mother picking up the then 3-year-old Su and taking him to another room when a bullet hit the family's door, close to where Su was sleeping.
Su later learned that in the chaotic period leading up to the "cultural revolution", an armed mob had seized a tower across the river and was shooting from it randomly.
"This is my first memory, a memory about society and life, a memory that hints at my future in literature," Su said.
When questioned about the violence in his works, Su said he often asks himself the same question. But he argues that what matters is how people deal with the violent legacy of bygone times.
"I won't write a novel based on violence. But when I try to capture the bloody smell of iron typical of that time, I shall never avoid it," said Su, whose works have been translated into many languages, since Zhang Yimou turned his novel Wives and Concubines into Raise the Red Lantern, which won the Silver Lion for Best Director at Venice Film Festival in 1991.
Known as a writer who deals sympathetically with women and their feelings, in his latest novel Su shifts to a wider spectrum of society, though the portrayal of Ku Wenxuan's tragic wife is still memorable.
(China Daily 11/17/2009 page19)