TOKYO: Hitachi Ltd, Japan's biggest electronics firm by sales, will raise up to $4.6 billion to shore up its capital, joining a scrum of Japanese firms tapping equity markets before a possible economic slowdown.
Hitachi, which is headed for its fourth straight annual loss, said it will raise up to 416 billion yen after fees, issuing 318 billion yen worth of shares and convertible bonds worth 100 billion yen.
The announcement yesterday came as its shares headed for their biggest single-day slide in six months after sources told Reuters about the public stock issue, Hitachi's first in 27 years.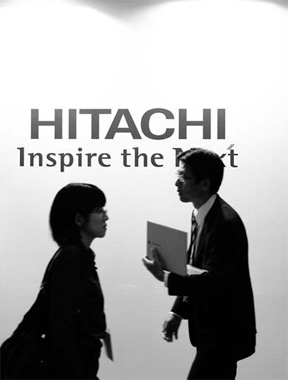 Hitachi has lost market share in flat TVs and digital devices to rivals from South Korea and Taiwan. Bloomberg News
Hitachi, which has a joint venture with General Electric in nuclear power, will invest in its nuclear power, software services and lithium-ion batteries operations.
But Hitachi has been forced to seek money before it could form a realistic plan for recovery, some analysts said.
"This amount is the absolute limit that Hitachi can seek from markets, but this may not be enough even to cover restructuring costs at such a mammoth firm, let alone invest in growth," said Mitsushige Akino, chief fund manager at Ichiyoshi Investment Management Co.
"I don't think investors will want to put their money in. There are so many more deserving companies that need funds."
Hitachi has lost market share in flat TVs and digital devices to rivals from South Korea and Taiwan, and is eager to focus its sprawling operations in growth such as in lithium-ion batteries and smart grids.
A sprawling conglomerate with more than 900 group firms, Hitachi has repeatedly said it will trim losses and focus on growth areas.
It said it would use the funds it raises to boost production capacity of nuclear reactors and lithium-ion batteries, to expand its software services operations and to spend more on research on its train systems.
But Hitachi, which supplies lithium-ion batteries to General Motors, remains weighed down by losses on its flat TVs and microchips.
The share issue, to take place between Dec 14 and 17, will be coordinated by Nomura Securities and Goldman Sachs, while Mizuho Corporate Bank and the Bank of Tokyo-Mitsubishi UFJ will manage the bond.
Hitachi lost 787 billion yen in the past business year ending in March, a record for a Japanese manufacturer, and is forecasting a loss of 230 billion yen in the current year to March 2010.
News of the public share offering, which would be Hitachi's first in 27 years, sent its shares down 7.8 percent.
Reuters
(China Daily 11/17/2009 page17)