Gulangyu: still a musical and historical traffic-free hideaway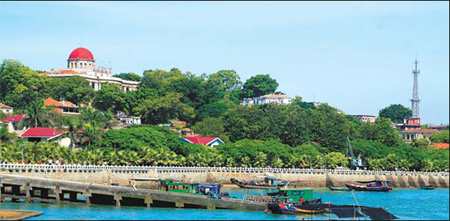 Gulangyu, a satellite island of Xiamen, is famed for its beauty, environment and diverse culture.
Gulangyu Island is the largest satellite island of Xiamen. Its beautiful natural scenery and diverse culture, a legacy of its long and varied history, are the defining characteristics of this extraordinary place.
The island covers an area of 1.91 sq km and has a population of 20,000. The only connection between the island and central Xiamen is via a 10-minute ferry ride. It is an island totally devoid of any kind of vehicles. According to regulations passed by the municipal government in 2007, no cars, motorcycles or bicycles are allowed on the island, meaning there is no exhaust gas pollution or traffic jams. Local residents and visitors walk freely along the streets amid the tall sheltering trees.
Due to the charm of its environment, Gulangyu attracts many young couples from Xiamen and its environs to take their wedding photos on the island.
It is also known as China's "Piano Island" due to the inordinate number of pianos owned by local residents and their enthusiasm for music. Currently, there are more than 5,000 pianos owned by local families, the highest density in the whole country. China's only piano museum was established on the island in the year 2000 and now has more than 100 valuable and ancient pianos on display.
Pianos were introduced to Xiamen at the beginning of the 19th century by the western missionaries that entered the city. Today those missionaries are no longer around, but their music has been passed down from generation to generation.
Many children on Gulangyu Island begin playing the piano when they are very young. When you walk on the island, you can hear pianos being played as waves crash against the shore. Due to its musical traditions, the island has proved a cradle for many famous performers, including Zhou Su'an in the 1920's, Wu Tianqiu in the 1950's, Xu Feixing in the 1960's and Xu Xingai in the 1990's.
A Gulangyu piano festival has been held in Xiamen every two years since 2002. Touring exhibitions of its ancient pianos and piano performances also regularly take place in Beijing, Shanghai, Guangzhou and Hong Kong.
As well as pianos and music, many of the island's foreign visitors have also bequeathed a range of buildings of varying architectural styles.
Gulangyu Island was once a remote fishing island with down-at-heel cottages. Xiamen became a trading port after the Opium War in 1840 and Gulangyu Island became a public concession in 1902. Afterwards, Britain, the United States, France, Germany, Japan, Spain, Denmark and another six foreign countries all set up consulates and villas on the island. A large number of overseas Chinese also built luxurious houses there. All these exotic buildings have now made the island something of a mini architectural museum.
At present, there are some 30 buildings in Gulangyu Island representing a range of architectural movements, including the Eclectic, Renaissance, Byzantine, Gothic and Baroque schools. There also several traditional US, Japanese and Chinese style residences.
These classic buildings have long lost their original uses, but some of them are employed in new guises. Some are now museums, sanitariums, private dwelling, schools, entertainment centers or even churches.
The island is now applying for UNESCO's World Cultural Heritage status. The basis of this application is that the island embodies the history of China since the Opium War and also demonstrates the integration of many different cultures, according to Zheng Guozhen, director of the Fujian provincial Cultural Heritage Bureau.
Currently, the municipal government is repairing many of the old buildings and removing those later added structures that are not in keeping with the overall atmosphere of the island.
The importance of the island to China's history dates back to the 17th century. Zheng Chenggong, a general in the late Ming Dynasty (1368-1644), recaptured Taiwan in 1662 from Dutch invaders who had captured the island 38 years previously. Gulangyu was his primary military base and the place where he marshaled and trained his soldiers.
In memory of his historic achievements, a museum was established on the island in 1962, 300 years after Zheng reclaimed Taiwan. In the museum, pictures, written testimonials, weapons and other relics are all displayed to honor his remarkable life. In addition, a 15.7 m granite statue of Zheng was set up on the island 1985. The two spots have become popular tourist attractions.
Other historical places on the island well worth a visit, include Sunshine Rock with its altitude of 96 meters, the highest point of Gulangyu, the Sunshine Rock Temple built in 1586 and the Shuzhang Garden to the south of Sunshine Rock, built by a Taiwan businessman, named Lin Erjia, in 1913. The island's many caves, beaches, parks and shops are also popular visitor destinations.
(China Daily 11/16/2009 page6)
Today's Top News
Editor's picks
Most Viewed