SHANGHAI: The visit by United States President Barack Obama to Shanghai has generated an unexpected business boom for some in the city.
A variety of T-shirts, bags, posters and trinkets with Obama's image are once again hot items here in Shanghai.
"It's the third time an Obama T-shirt has been popular. The previous two were after he became president and when he won the Nobel Peace Prize," said Gan Shuqin, owner of an online shop on Taobao.com. Her shop features an "ObaMao" T-shirt, with Obama's face superimposed over that of Mao Zedong, with the famous inscription reading "Serve the People wholeheartedly" at the bottom of the shirt.
The "ObaMao" T-shirt and one replacing former president Abraham Lincoln's head with Obama's on the $100 bill are trendy among young people, said Gan.
Obama's stop in Shanghai, where he will be greeted with a Disneyland deal, will fuel Sino-US economic and trade exchanges, experts say.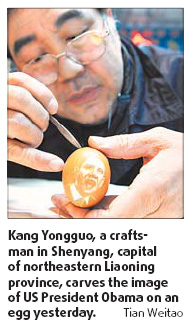 Liu Aming, a researcher with the Institute of Asia-Pacific Studies, Shanghai Academy of Social Sciences, said Obama will be the first US president to set foot in Shanghai during a state visit to China.
"It just shows clearly how important Shanghai is in China's economic development as he attaches great importance to Sino-US economic and trading interactions."
J. Norwell Coquillard, chairman of the American Chamber of Commerce's Shanghai Board of Governors, said the organization is growing fast, mainly due to Shanghai's dynamic economic growth and development into a commercial, financial and industrial capital of the Asia-Pacific region.
"More than 65 percent of the Fortune 500 have regional headquarters here in Shanghai and trade last year between the US and Shanghai alone exceeded $50 billion," he said. "The president's visit highlights the growing importance of Shanghai in the overall US-China commercial relationship."
Ni Shixiong, former deputy director of the center for American studies at Fudan University, said: "The China visit will be the first meeting between President Obama and President Hu Jintao after the London Summit, where they agreed to work together to build a positive, cooperative and comprehensive relationship."
As plenty of issues will be discussed and new consensuses are expected to be reached, Shanghai will be the place for him to warm up, Ni added.
"He is going to have a town hall meeting with Chinese youth. It is a type of communication Obama always likes. And as the youth represent the future of a country, the meeting will demonstrate the vitality of the two countries' future relationship."
Frank Sieren, 42, a China expert and bestselling author who has spent 15 years in Beijing, said: "I think Obama is visiting Shanghai to see the most modern and developed city in China," he said.
"Through meeting with the youth, he wants to learn more about Chinese self-awareness, about how Chinese kids see their own country and what they think of the US. He probably wants to find out if the US is still a role model," he said.
Daniela Meyer contributed to the story
(China Daily 11/16/2009 page3)