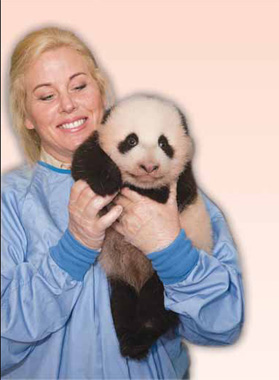 The unnamed cub gets a veterinary exam with keeper Heidi Trowbridge on Oct 20. Ken Bohn, San Diego Zoo
Until now, he's been called everything from "the cub" to "Heartbreaker", "furry ball of fluff" to "roly-poly" and "chubster". But at 11 am Tuesday Pacific Standard Time, the San Diego Zoo's nearly 15-week-old giant panda cub will be bestowed with a proper name.
The zoo has been following the Chinese tradition of waiting 100 days before naming a child. But how it has chosen that name is an all-American tradition.
Just as each panda cub is unique, so has been each naming process by the zoo.
Hua Mei was born in 1999. Because she was the first giant panda to be born in the United States and survive, she was considered very special. So she was named by China, and her name literally means "China USA."
Next, in 2003, came Mei Sheng, who was named by the zoo's panda team. His name means "born in the USA".
Su Lin was born two years later. "The panda team actually picked five names they liked, and then had them approved through China," explained zoo spokesperson Yadira Galindo. "Then the zoo had an online vote for a favorite."
Her name translates to "A little bit of something very cute."
Since the giant pandas had been gaining so much notoriety, when the fourth cub was born in 2007, the zoo decided to involve the community. They asked people to come to the zoo and suggest names, requesting they be in Chinese and have a special meaning. After approval from Chinese officials, she was officially dubbed Zhen Zhen, a k a, "Precious".

On Aug 5, 2009, Bai Yun gave birth to her fifth cub at the zoo, (the fourth fathered by her current male companion, Gao Gao). Ever since the news of the birth, millions of panda fans from all over the world have been following the cub's progress 24 hours a day, on live panda cams, via the Internet.
"Before the birth we had about 8,000 to 10,000 page views a day," said Galindo. "After the birth, we've been averaging about 37,000 page views a day."
Acknowledging the pandas' popularity and recognizing the power of the Internet, this time the zoo decided to name the little guy by asking visitors to submit names, following the same guidelines except, said Galindo. "We also accepted them (names) online, so people outside of San Diego could (also) participate."
Over 10 days in October, zoo officials received more than 6,300 suggestions, about half from zoo visitors and the rest from online fans. Those were narrowed down to five names they thought would best fit the panda and the community's taste.
After approval from Chinese authorities, it came down these: F Shng (): Blissful San Diego; Xio Lng (): Little Dragon; Xing Wi (): Extraordinary Bear; Yng Xing (): Eternally Blessed; and Yn Z(): Son of Cloud. (Mother Bai Yun's name translates to "White Cloud".)
After four days of online voting through Nov 3 the zoo had received 17,526 suggestions. Two days after the voting ended, the zoo held an hourlong online interactive baby shower.
"It was an opportunity for fans to ask keepers questions and get some fun facts about the pandas," said Galindo.
All this attention falls on a cub who hasn't really done much of anything yet. For the first few months, Bai Yun and her cub will stay mainly together in a private den, only accessible to the public through the panda-cam. Zookeepers perform a weekly exam on the cub.
All giant pandas in the United States are on loan from China for research purposes. In 2010 Su Lin will return to China, as she is of age to participate in the giant panda breeding program.
The San Diego Zoo will post the formal name of the newest cub on its website after the announcement Tuesday. Log on to sandiegozoo.org/pandacam for the verdict.
(China Daily 11/14/2009 page19)