Few people buying into luxury home expo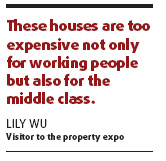 A showcase of luxury Beijing properties aimed at the country's most wealthy inhabitants has so far failed to draw the crowds organizers hoped for.
The four-day Beijing International Top Property and Luxury Show kicked off on Thursday at the Beijing World Trade Center, the capital's financial hub and home to a mall selling luxury goods.
The show featured high-end homes with price tags of at least 30,000 yuan ($4,777) per sq m.

Today's Top News
Editor's picks
Most Viewed