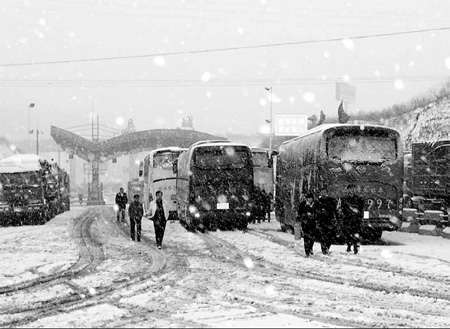 Road traffic is cut off by heavy snow in Luliang, North China's Shanxi province, on Tuesday. Gao Zengping
Heavy snow continued to batter a vast swathe of the country yesterday, stopping traffic, grounding planes and cutting off power supplies in some areas.
Some 10,000 vehicles and 30,000 people were stranded yesterday in the northern province of Shanxi by snows that began on Monday, China National Radio reported.
The massive traffic jams had eased a little by midday yesterday, but hold-ups were expected to continue for a while, said the report. A separate announcement on the website of the Shanxi provincial government urged local officials to take care of stranded passengers.
"There will be some hardship with public travel, coal transport, and shipments of materials for domestic and production needs," said the report.
Last year, Shanxi produced 656 million tons of coal, or about 23 percent of the country's total output.
Places across the province hit by the jams included Datong, Changzhi and other big coal mining centers. But there are no signs yet that the supply disruptions have seriously hurt power availability or industrial production.
In Shijiazhuang, capital of North China's Hebei province, continuous snow yesterday paralyzed all transportation, including aviation and highways, provincial authorities said yesterday.
The heavy snow has cut off electricity in some areas of the city since Monday. Repair work is under way.
More than 5,000 cleaners in Shijiazhuang have been organized to shovel the snow, and 42 de-icing vehicles kept working on the city's main traffic routes.
The city shut down all the schools in the urban area except boarding schools yesterday.
Similar situations happened in other major cities hit by the blizzards in north China.
In Beijing, all the schools and kindergartens were allowed to reschedule classes given the traffic inconveniences caused by the storm, according to an emergency notice posted by the Beijing Municipal Government on Tuesday.
An educational department official in Chongwen District suggested that all the schools be shut down for one day yesterday.
A similar snow storm in early 2008 paralyzed roads and knocked down power lines in the southern part of the country.
Lighter snow is expected in coming days, according to weather forecasts on the website of China's National Meteorological Center.
Heavy snow will continue to hit Innner Mongolia, Shaanxi, Shanxi, Hebei and Shandong, with a temperature drop of as much as 20 C in the coming two days, according to the center.
(China Daily 11/12/2009 page5)