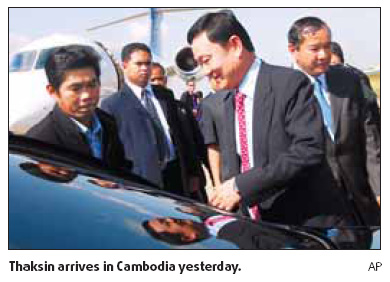 BANGKOK: Thaksin Shinawatra's visit to Phnom Penh benefits both the ousted Thai leader and his Cambodian host, but could drag the two countries back into a simmering border conflict, analysts said.
Thaksin, wanted at home for a graft conviction, arrived in Cambodia yesterday to take up a government job offer. He is expected to give a lecture tomorrow and it was not clear how long he would remain in the country.
Golfing buddies in their spare time, Cambodian Prime Minister Hun Sen and Thaksin are using the row over the ex-Thai PM's appointment as an economic advisor to settle scores with the current Thai government, they said.
But analysts warned that the pair are now locked in a dangerous game of brinkmanship with Bangkok's furious administration that could reignite deadly clashes over an ancient temple on the Thai-Cambodian border.
"This new situation has moved Thailand and Cambodia closer to a conflict," said Paul Chambers, a senior research fellow in Thai politics at Heidelberg University in Germany.
Thaksin and Hun Sen have been close since 2003, when they repaired relations after Cambodian rioters burned down the Thai embassy, and remained so after Thaksin was toppled in a bloodless coup in 2006.
The furor over Thaksin's new job has let Hun Sen "carry out his vendetta" against new Thai Prime Minister Abhisit Vejjajiva, said Thitinan Pongsudhirak, a political analyst at Bangkok's Chulalongkorn University.
Hun Sen wanted to humiliate Abhisit after Thailand refused to negotiate over disputed land around the 11th century Preah Vihear temple, and after the Thai foreign minister branded him a "gangster", Thitinan said.
At least seven soldiers have died in clashes near the temple since it was granted UN World Heritage Status in July 2008.
The Cambodian leader is also seeking to destabilize the Thai government due to its historic hostility towards him, hoping that its collapse would allow the return of Thaksin or his allies, analysts said.
Hun Sen had further shown "suspicious timing", he said, with the row coming just before Abhisit is due to chair a meeting of Southeast Asian leaders with US President Barack Obama on Sunday.
Thaksin's new job gives the former owner of Manchester City football club a useful base near Thailand from which to seek a return to power three years after he was toppled. It is the closest he has been to Thailand since he fled the country in August 2008 to avoid an impending jail term for corruption and "he is just trying to provoke the Abhisit government into overreacting," Thitinan said.
The pressure is now on the Thai government not to overreact, after it angrily pulled its ambassador from Phnom Penh last week and tore up an oil and gas exploration deal with Cambodia yesterday.
AFP
(China Daily 11/11/2009 page12)