SHANGHAI: Renewable energy stocks have enjoyed a joyride over the past five days on speculation US President Barack Obama's maiden visit would speed China's efforts at going green.
Most green technology-related stocks, such as nuclear and wind energy, rose yesterday. All 10 nuclear power companies' shares, for instance, advanced, led by Shenzhen Woer Heat Shrinkable Material Co, which produces macromolecule nuclear radiation modification materials.
Woer rose 8.46 percent to 18.58 yuan at close, while the major index gained only 0.85 percent.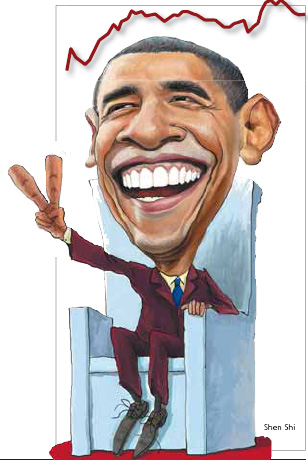 Guangzhou Zhiguang Electric Co, a designer and manufacturer of safety and control equipment for the electricity grid, climbed to its daily cap of 10 percent yesterday.
The US president's official trip to China from Nov 15 to Nov 18 will mainly focus on fostering cooperation in new energy and the environment, Jon Huntsman, US ambassador to China, said.
"Given Obama's aggressive new energy policies back in the US, his visit to China will be tied to sustainable energy technologies, which give plenty of room for market investors to speculate on related stocks," said Yang Jianbo, an analyst with Guojin Asset Management Center.
Indeed, Obama is widely known for his strong environmental awareness. His administration has unveiled many investment initiatives to bolster sectors like bio-fuels, lithium battery technology for the automotive sector, and clean-tech firms' innovation practices.
The Chinese government earlier this year also announced stimulus programs to boost the domestic renewable energy sector. Premier Wen Jiabao said on Tuesday that the development of the new energy industry would be a priority.
"Obama's visit, coupled with the Chinese government's aggressive ambition to spur green-tech development, has mapped a bright growth potential for the renewable energy industry," Yang said.
According to figures cited by Xinkuai Daily, the market for lithium-ion batteries, for instance, will be worth 15 billion yuan by 2012 as China goes greener.
Ningbo Shanshan Co Ltd, a leading manufacturer of material for lithium-ion batteries, climbed 3.32 percent to 16.47 yuan.
In May, the firm entered into an agreement with Australia-based Heron Resources Co to work on the latter's Yerilla nickel-cobalt project in Australia.
"Shanshan is poised to go upstream, which will add credit to its sustainable revenue growth even though the development prospects for renewable energy-driven automobiles remain uncertain," said He Chang, an analyst from Fortune Securities.
Obama has not been the only American to impact China's stock market. Warren Buffet's choice of electric carmaker BYD last year and promotion of suit maker Dayang Trands had sparked a surge in these companies' shares.
Spurred by Buffet's recent move to buy out Burlington Northern Santa Fe Corp for $26 billion, most railway stocks in China climbed yesterday. Guoheng soared to its daily limits of 10 percent yesterday to close at 6.04 yuan, the highest in three months.
(China Daily 11/06/2009 page15)