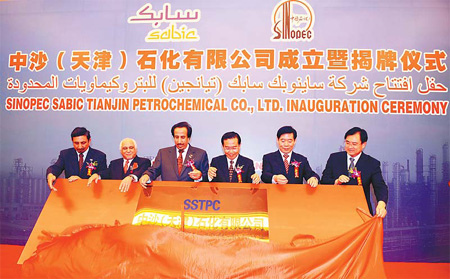 Sinopec Chairman Su Shulin (3rd from right), SABIC Chairman Prince Saud Bin Thenayan Al Saud (3rd from left) and Executive Vice-Mayor of Tianjin Yang Dongliang (2nd from right) at yesterday's inauguration ceremony in Beijing. Cheng Yang
Asia's largest refiner, Sinopec Corp (Sinopec), and Saudi Basic Industries Corp (SABIC) inaugurated their new petrochemical complex, which can produce 1 million tons of ethylene annually and cost 18.3 billion yuan, in Tianjin yesterday.
The two companies had formed a 50-50 joint venture, Sinopec SABIC Tianjin Petrochemical Co Ltd, to build and operate the facility.
The complex includes a 1-million-ton ethylene cracker, along with eight downstream units and utilities, which have been tested and are ready to begin production by the first quarter of next year.
The project will produce 3.2 million tons of chemicals annually, including 1 million tons of ethylene, as well as other downstream products such as polyethylene, ethylene glycol, polypropylene, butadiene, phenol, and butene-1.
The two companies will work to make the joint-venture ethylene project in Tianjin an outstanding platform for the expansion of future cooperation, said Sinopec Chairman Su Shulin.
The two companies may also build other joint petrochemical projects, in China or Saudi Arabia, said Sinopec President Wang Tianpu.
The project will help increase Tianjin's annual GDP by more than 4 percent and trigger additional investment of 100 billion yuan in downstream and associated industries, said Wang.
Products manufactured by the project will mainly be sold on the domestic market, but exports are also likely in future, said Wang.
"Development of the refining and chemicals business is of strategic importance to Sinopec. This year, we will achieve oil processing capacity of around 200 million tons," said Wang. The company is expected to achieve 205 million tons of processing capacity next year, he added.
Sinopec plans to add 12 million to 15 million tons of refining capacity each year in the next three years, said Wang, adding that the refiner would continue to expand its refineries in Shanghai, Yangzi, Jinling, Shijiazhuang, Changling, Maoming and Anqing.
China will build three or four oil refining bases in the Yangtze River Delta, Pearl River Delta, and Bohai Sea-rim economic zone. The oil refining bases will have a minimum refining capacity of 20 million tons each.
Together with the refining facilities, three or four ethylene projects with annual production capacities of 2 million tons each will also be built.
China's refineries should process 405 million tons of crude oil in 2011, up from the 342 million tons of crude oil they processed in 2008. This means China would increase annual oil refining volume by 18 percent by 2011.
The total revenue of China's petrochemical industry hit 613.97 billion yuan in September, up 3.3 percent from a year earlier, according to the China Petroleum and Chemical Industry Association.
(China Daily 11/04/2009 page13)