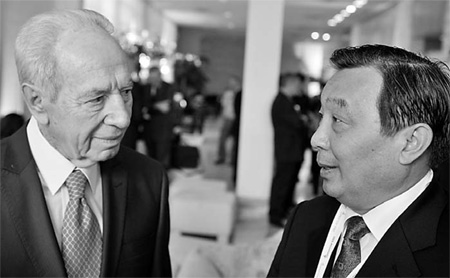 Israeli President Shimon Peres and Wang Chen, minister of the State Council Information Office of China, exchange views at the Second Israeli Presidential Conference "Facing Tomorrow 2009" held recently in Jerusalem.
Editor's note: The Second Israeli Presidential Conference "Facing Tomorrow 2009" was held on Oct 20-22 in Jerusalem. Israeli President Shimon Peres attended the conference and delivered a speech. Wang Chen, minister of the State Council Information Office of China, attended the conference as the Chinese representative at the invitation of the host. Wang delivered a speech "China Embraces the Information Age" on the issue of new media, an agenda item of the conference.
This is my first visit to Israel. To get a better understanding of Israel, I tried to collect some information from the Internet a few days ago. To my surprise, I found as many as 140,000 pieces of Chinese information about drip irrigation in Israel and over 180,000 Chinese media stories on President Peres. This shows that the Internet has brought China and Israel even closer to each other. It also tells us how information technologies are changing our world. Never have people in different parts of the world been tied up to each other so closely as they are today.
Mankind has entered an information age that features, most noticeably, the fast development and extensive application of the Internet. The development of the Internet has not only promoted political multipolarization and economic globalization, but also facilitated frequent exchanges of various ideas and cultures around the world. The Internet, a digital world, has become part and parcel of the real world. In the real world, we need an order. In the digital world, we are also faced with a common challenge to establish an order. China is ready to join hands with other countries to contribute to a digital world that has an order and is shared by all people.
We Chinese people, like peoples in other parts of the world, love all things good and beautiful, including the Internet. As early as 1992, the Chinese government asked for access to the Internet. On April 20, 1994, its request was satisfied. In a short span of just 15 years, China has seen its number of netizens growing to 350 million, or one fifth of the world's total. Also, this population of netizens is now growing at an average daily number of 240,000, and there is one website to every 400 Chinese so far. If this momentum is maintained, China will have more than 500 million netizens in two years. This would mean an increase of its Internet penetration rate from the current 25.5 percent to 38.5 percent. For a developing country like China, it is really a miracle to popularize the Internet at such a fast pace.
China has seen quick development of almost all the latest Internet applications. The number of bloggers, for instance, has reached 182 million. In other words, there is one blogger among every seven Chinese. The ICQ IM software developed by Yair Goldfinger and three other young Israelis in the mid-1990s immediately swept the world. The Chinese people also like the IM tools very much, and about 230 million Chinese netizens, or 72 percent of their total, are now using IM tools. I am one of them, relying on IM tools to communicate with my colleagues, family, and friends. For this very reason, I would like to avail myself of this opportunity to thank these talented young Israelis.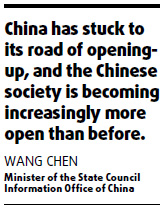 The Chinese people have benefited a lot from the Internet. In China, the Internet has been widely applied in e-government, e-commerce, public education, news reporting, and in various other fields. E-commerce, in particular, has developed very fast in China, with the volume of transactions growing at an average annual rate of more than 45 percent over the past five years and hitting $460 billion in 2008. In every sense, the Internet has become a new engine driving the development of China's economy and a new force facilitating the transformation of China's economic growth mode. It will also play a unique role in China's development of a low-carbon economy. As a new form of media, the Internet has also taken up an increasingly prominent position in China's media industry, and has become a major channel for Chinese to get information and learn about the world. Nearly 80 percent of Chinese netizens visit the Internet mainly for the purpose of reading news.
Thanks to the Internet, the Chinese society has become more transparent and open. As is noticeable to all, the Internet has gained a unique feature during its development in China, namely, a tendency of the general public to express its opinion via the Internet. Of the more than 3 million websites registered in China, over 600,000 offer BBS services, greatly facilitating expression of public opinions. Statistics have shown that at the top 10 websites in China, more than 2 million blogs are posted each day, and a countless amount of information would be published at various kinds of online forums.
Both Chinese state leaders and government officials at various levels attach great importance to the opinions aired via the Internet. Even President Hu Jintao and Premier Wen Jiabao exchanged opinions with the public directly via the Internet. Whenever a major decision relating to the public interest is to be made, the Chinese government would go to the Internet to seek opinions from the general public. Thanks to the development of the Internet, Chinese citizens now enjoy greater rights to be informed, to participate, to express themselves and to supervise, thus pushing forward the development of democratic politics in China.
Meanwhile, some new changes have emerged in the development of the Internet in China. While striving for self-innovation, China's traditional media are seeking all-round integration with the Internet, injecting new vigor into the development of China's media industry as a whole. In China, integration between the landline telephone, the Internet and the broadcasting and television networks is gaining momentum. This will not only further raise China's level of informationization, but also bring more Chinese to enjoy the achievements of advanced modern information technologies. The commercial application of the 3G wireless communication systems is now making it possible for more than 700 million Chinese subscribers to access the Internet at any place and any time. This has also opened a greater space for extending the new services and new applications of the Internet. What is even more encouraging is that 75 percent of the new netizens in China are rural residents, a sign of the rapid narrowing of the "digital gap" between urban and the rural areas in China.
Informationization will bring even greater changes to our life. It will also further change the relations between different countries and different cultures. The development of information technologies will by no means stop at the current level of our perception. Instead, global informationization as marked by the development of the Internet will continue its irresistible momentum, and will bring us one pleasant surprise after another in advancing economic globalization and cultural harmony and integration. It requires us to make proactive efforts to adapt to the trend of global informationization.
Cultural integration shall not be sought, however, at the cost of the unique characteristics of national cultures. Instead, efforts should be made to promote their mutual respect and tolerance. Likewise, economic globalization shall not be sought at the cost of national sovereignty or dignity, and countries with different historical backgrounds should strive for mutual support and understanding. During our age of informationization, this should also be upheld as a rule binding upon all during our age of informationization.
The Chinese people highly value the great opportunities arising from informationization. Over the 60 years since its founding, the People's Republic of China has seen profound changes in its society. Meanwhile, China remains a developing country with a big population. For us Chinese, the only source of happiness is development, and our development will surely contribute to world peace and prosperity. China will promote industrialization through informationization, and spur the great-leap-forward development of its national economy through integration of industrialization and informationization. To this end, the Chinese government has adopted a series of policies and strategic measures to advance the course of informationization and to encourage scientific and technical invention and innovation beneficial to the development of informationization.
As the saying goes, to make farther, you'd better come together. During its strive for modernization, China has stuck to its road of opening-up, and the Chinese society is becoming increasingly more open than before. To face up to the great waves of informationization, China cannot keep itself away from the world, and the world cannot keep itself away from China. We welcome well-known international IT and Internet enterprises to China to develop themselves and to achieve win-win results. I believe that China offers excellent opportunities also for Israeli enterprises. The Symantec Company, for instance, already enjoys good reputation in China. More Israeli companies will surely follow the Symantec example to grow in the Chinese market.
China is different from all other countries in the world. To know China, it is necessary to take its history and culture into account. In history, the Chinese people used to be bullied and humiliated by Western powers. Sixty years ago, Chinese led a life of poverty and hardship, and had no access to the least human rights. After the founding of New China, the Chinese people have become the masters of their country. Their life has improved tremendously, in particular, over the 30 years since China's inauguration of the policy of reform and opening-up. For this reason, all Chinese highly treasure their hard-won national dignity and ever-happier life.
The ongoing cultural event, "Experience China in Israel" is pre-cisely designed to help the Israeli people to get a better understanding of a true China and to enhance the friendship between the Chinese and the Israeli peoples. Both China and Israel enjoy a long and brilliant history and culture. The people of our two countries have also forged profound friendship. We should come together, look forward, and work for the harmony and development of the world.
(China Daily 10/31/2009 page4)