UNITED NATIONS: UN Secretary-General Ban Ki-moon yesterday played up the December climate summit in Copenhagen by saying it could be a success even without yielding a legally binding agreement on reducing pollution.
He urged the 190 participating nations to reach political deals - which diplomats said means nonbinding agreements - on ambitious goals with the details to be worked out later.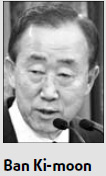 Ban's climate adviser Janos Pasztor this week lowered expectations for the UN meeting on global warming in the Danish capital when he said a legally binding agreement would have to come out of talks held after Copenhagen.
Diplomats and UN officials say getting political agreements out of Copenhagen will not be easy: Rich and poor nations are deadlocked on how to share the burden of curbing carbon dioxide emissions and aid to fund a deal.
But the UN chief insisted at a monthly news conference that expectations for the December summit remained high and said he was speaking daily with world leaders to encourage them to overcome the deadlock.
"We are still keeping ambitious expectations and targets," he told reporters.
Reuters
(China Daily 10/30/2009 page11)