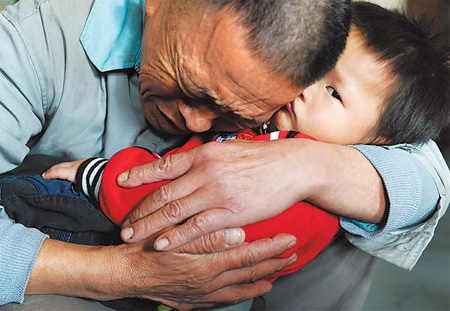 Wang Bangyin, a farmer from Zunyi, Guizhou province, breaks down as he holds his rescued son at Guiyang Welfare Center for Children yesterday after the pair were reunited. Wang's son was among 60 children seeking parents after police freed them from human traffickers. The Ministry of Public Security released photos of the children on Tuesday. Wang and his son were the first from the list to be reunited. Wu Dongjun
A father from Guizhou province wept with joy yesterday as he was reunited with the son human traffickers snatched from him two years ago.
The boy was among 60 children rescued from the gangs during a six-month nationwide crackdown.
"I am extremely grateful," said Wang Bangyin. "I will remember this for as long as I am alive. Now, I just want to carry my boy home."
A photo of the little boy, whose age was not disclosed, was published this week along with the pictures of 59 other children as the Ministry of Public Security tried to find their parents.
Wang, who is a farmer, saw the photo of a child he thought may have been the son he lost in October 2007 and went to the public security bureau for blood tests. The DNA analysis proved child number 39, who had been renamed Hua Guokang, was his son.
He was among 15 children freed by Guizhou police during a swoop in May.
Police urged other parents of missing children to come forward for blood tests so their DNA can be analyzed and compared to the DNA of the rescued children.
Chen Shiqu, head of the Ministry of Public Security's office for combating human trafficking, said the ministry will work closely with the media to reunite families.
"As we find more children, we will continue making information public through the media," said Chen.
Human trafficking in China is a massive problem. Experts estimate between 30,000 and 60,000 children are snatched each year.
Photos of the 60 rescued children were published on Tuesday, along with available details and the phone numbers of police handling the cases.
Since then, the officers' phones have been ringing off the hook.
Most callers wanted to know whether it would be possible to adopt one of the rescued children, Beijing-based Legal Evening News reported yesterday.
A policeman surnamed Zhang, from Lanzhou public security bureau in Northwest China's Gansu province, is responsible for finding the parents of seven of the children. He said he took more than 100 calls on the subject between Tuesday afternoon and yesterday morning.
Zhang said many people wanted to adopt the freed children but several calls were from parents who had lost children. Some calls were from media organizations wanting to help publicize the situation.
Zhang said one resident called four times begging to adopt a child named Ma Zhicheng, number 41 on the list.
An officer from the public security bureau in Huishui county, in Southwest China's Guizhou province, who gave his surname as Jiang, said he had received about 40 calls and text messages.
"Many parents who had lost children called because they thought children in the photos looked like their loved ones," he said. "However, the reuniting process could be difficult because many of the children were kidnapped when they were very little."
A police officer surnamed Li, from Shouyang county, in Shanxi province, said he received a touching message from a father who had not lost a child.
Li said the message read: "I'm a father and I'm lucky to have my baby sleeping beside me. I want to thank you for what you are doing on behalf of all parents in the world."
The rescued children are being cared for by civil affairs authorities while the search continues for their parents. Police said children may ultimately be adopted if, after exhaustive efforts, their parents are not found.
(China Daily 10/30/2009 page1)