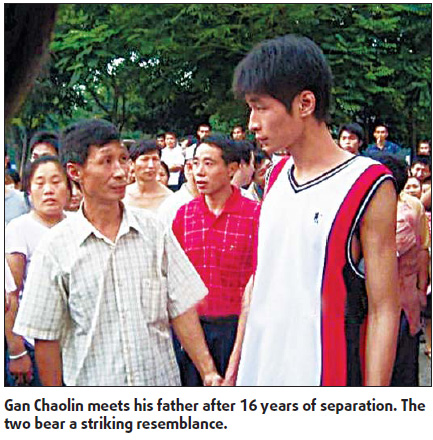 Gan Chaolin, 22, was abducted from his mother's arms by two of his parents' workmates in Guangdong province and sent by child traffickers to Fujian province, when he was just 6.
After being shunted around for a while, he was given a new name Wu Zhijian and settled with a well-off family in Putian, Fujian.
For more than a decade, Gan refused to call the couple Mom and Dad, for he clearly remembered his birth parents.
"I always felt that I was staying under the roof of others."
The troubled Gan dropped out of school when he was a teenager. "He's a smart kid, but there seemed to be too much on his mind," says Gan's adoptive mother surnamed Lin. On one occasion, he even ran away and managed to reach Guangzhou.
Meanwhile, in Guangzhou, Gan's parents who came from Chongqing, kept trying to trace their son. They thought of returning to their home village, but decided against it just in case there was word from their lost son. Exhausted mentally and financially, they continued to struggle in the busy city.
In 2008, news of the May 12 earthquake worsened Gan's anxieties as he thought his birth family was from Sichuan.
With help from his adoptive parents', he posted his information on the website of Baby Come Home.
The volunteers began to gather more details from Gan and compared these with details posted by parents looking for their missing children. Whenever they felt they had a lead, local volunteers followed it up with visits and checks.
For nine months, nothing clicked. "Occasionally, we saw a possibility, but it turned out to be a false lead," recalls Lily Chen, a volunteer involved in the search and a mother to an 18-month old in Guangzhou.
Then, in April, an online missing person's ad caught the volunteers' eyes. The posting was by Gan Chaoyang, Gan Chaolin's younger brother. It was the first time the family had access to a computer, and they used it to look for their older son.
The volunteers called the father Gan Zhenghong for further details. But at first, he was very reserved.
As a longtime volunteer, Chen understood his reluctance as "parents looking for missing children are often cheated by offers of fake information".
Chen and the team called and visited, sometimes six times a day, to provide fresh clues from the son, including details of events, their timing, scars and photographs.
In June, Gan Chaolin came to Guangzhou, accompanied by his adoptive mother, to meet the family after 16 years of separation. Chen cannot forget the moment Gan saw his father. The son and father gazed at each other in amazement. The two bore a striking resemblance. After a few more minutes of silent stares, the two held each other tightly, and the tears flowed.
Gan moved in with his family and a DNA test confirmed the blood ties.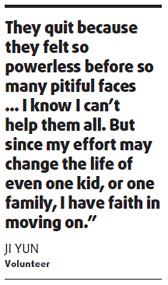 He still can't believe all that he's been through.
"In Fujian I had a financially comfortable life," he says, "but here at home, I feel most comforted spiritually."
Currently, he is learning to be a truck driver to help his family in Guangzhou.
Zhang Baoyan, the initiator and director of the volunteer group Baby Come Home says, "Half of our volunteers are young mothers. The rest are fathers, grandparents, university graduates and students. Anyone with access to the Internet can join us".
Lily Chen spends some two hours a day for the group besides her full-time job. "Once I've started, I can't stop and leave them alone," she says. "To find lost children is a tough road. Our concern and support have been encouraging the desperate parents with hope to carry on."
Still, Ji Yun, the volunteer who helped Norris, mentions that some volunteers have quit after witnessing all the sadness.
"They quit because they felt so powerless before so many pitiful faces," Ji says. "I know I can't help them all. But since my efforts may change the life of even one kid, or one family, I have faith in moving on."
(China Daily 10/29/2009 page18)