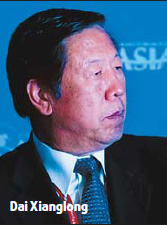 SHANGHAI: China's national pension fund is preparing to boost private equity investments as the fund is expected to grow to 1 trillion yuan ($147 billion) in a year, up from $80 billion at the end of last year, Chairman Dai Xianglong said yesterday.
Dai, head of China's National Social Security Fund (NSSF) and a former central bank governor, also said that the global currency system dominated by the dollar would gradually shift to one comprising of the dollar, the euro and Asian currencies such as the yuan in the aftermath of the financial crisis.
"Big changes are taking place, but they won't happen overnight," Dai told a financial conference in Shanghai. "Reforming the irrational international financial system is necessary, but it's a gradual, long-term process."
China and some other developing countries are seeking more say in the global financial system as the world economy reels from fallout linked to the US subprime mortgage lending crisis.
Dai said that China, Russia, India and other export-reliant economies hoped to see a stable dollar, but expressed concern over the currency's fate.
"The problem is not whether the US government is willing or not to keep the dollar stable, but whether it has the ability to do so," Dai said.
"We should shift our focus to the domestic market, and support economic and financial restructuring," he said.
As part of efforts to boost direct financing and reduce the economy's reliance on bank lending, NSSF planned to grant more mandates to private equity investment managers and it has received eight applications this year.
The fund can invest a maximum of 10 percent of its assets in private equity, meaning it can use up to 100 billion yuan in such investments in a year, Dai said.
NSSF is also ready for a new round of investment in global capital markets. The fund awarded mandates to a group of foreign fund managers including Martin Currie and Fidelity Investments, sources told Reuters in June.
The NSSF is a fund of last resort for China's patchwork of underfunded provincial pension schemes.
Reuters
(China Daily 10/29/2009 page13)