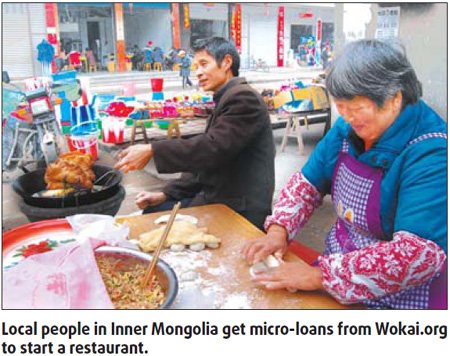 Xu Jintan, 47, never wants to go back to the life she had ten years ago.
Along with her husband she lived in a small mud home on dry and dusty ground, reliant on a couple of cows and just a few sheep to stay alive and bring in the money.
At that time, their annual income barely covered the cost of staying alive.
In order to boost their impoverished lives, the couple took out a micro-loan a few years ago and bought a cart that could carry their cows into the city for higher prices. Their lives improved and they built a brick house.
But tragedy struck earlier this year with a severe drought from which grass couldn't grow. Suddenly, their cows had no food.
With $300 needed to buy feed to get through the oncoming winter, they never expected financial assistance would arrive from a micro-loan website founded by two American women, and within only a few days.
Since its launch last November, Wokai, or "I Start" in Chinese, is a non-profit micro-loan website registered in Oakland, California.
Co-founded by two 25-year-old American girls called Casey Wilson and Courtney McColgan, it has already raised $102,099 from 628 contributors and helped 201 recipients.
Most of these impoverished people reside in the rural areas of Chifeng in Inner Mongolia and the quake-affected Sichuan province.
Wilson and McColgan graduated from Tsinghua University in Beijing in 2007.
Wilson was pursuing a career in development, and Courtney, who received the Fullbright Scholarship, was studying about micro-loans.
The two young women, also roommates, realized the modern urban life in Beijing couldn't reflect the country's whole economic condition.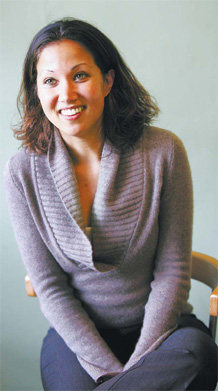 Wokai.org co-founder and CEO Casey Wilson. Guan Xin
"China has the second largest population in the world living under the poverty line, so there are a lot of things that need to be done," Wilson, the co-founder and the CEO of Wokai.org told METRO.
"We decided to combine our skills and interests together to launch Wokai."
The pair decided to follow Muhammad Yunus, a Bangladeshi banker and economist, who created a successful system to provide micro-loans to the poor and was awarded the Nobel Peace Prize in 2006.
"During our research, we found that the micro-loan system in China was lagging about 20 years behind India, Bangladesh and South America. It had limited influence and was mostly short of funding," Wilson said.
Wilson invested $10,000 into the founding of Wokai.org and Courtney sold her car, raising another $10,000.
Their families and friends offered $30,000 and other supporters in the US raised another $50,000.
On March 2007, Wilson and McColgan set up Wokai together.
Over the following year, they built up a partnership with two NGOs.
They are the Association for Rural Development of Yilong County in Sichuan and the Chifeng Zhaowuda Women's Sustainable Development Association in Inner Mongolia.
Wilson and McColgan helped them train the staff capable of verifying the details of loan applicants.
"It is always difficult for starters. The regulatory issues and Web development difficulties gave us new problems every couple of days," Wilson recalled.
Wokai grew and now has members in San Francisco, New York and Seattle and over 150 volunteers in China and America working on promoting the organization.
Their website Wokai.org officially started operation in November 2008.
Its field partners screen and select qualified recipients in their local communities and post their profiles on the website, including details and the amount of money they need. This is usually between $300 and $600.
Contributors browse through the website and select those people they want to help, then donate a minimum of $10.
Wokai distributes the money to the field partner and monitors its use, allowing contributors a chance to track its progress and watch pictures and videos of how their recipient's lives have changed.
"About 90 percent of the contributors are from America. Most of them are American-born Chinese or people who have connections with China," Wilson said.
"For instance, people who used to live in China or parents who have adopted children from China."
What makes Wokai so unique is that it is not a charity fund.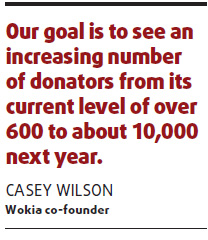 Recipients are required to pay back the loans but the money isn't returned to the donators.
Instead, it is used to offer more help to others in need. This makes it a largely self-sustainable system.
In addition, unlike most micro-finance organizations, Wokai does not ask for anything extra in return.
"Other micro-finance organizations usually ask for an interest of 10 to 12 percent which is still expensive for those people, so we don't charge," Wilson said.
Their website seeks no profit from loan candidates, meaning the operation fees of Wokai and its marketing difficulties are Wilson's main concern.
"Our goal is to see an increasing number of donators from its current level of over 600 to about 10,000 next year," Wilson said.
"In the following two or three years, we hope the annual donation can reach $5 million. So, maybe in the near future, we can find our operation fees from the contributor."
With the coming one-year anniversary of Wokai.org on Nov 15, Wilson believes Wokai will improve more people's lives in the future.
"We name it Wokai because we hope the organization will open a door to a life-changing opportunity for those in rural areas," she said.
(China Daily 10/27/2009 page28)