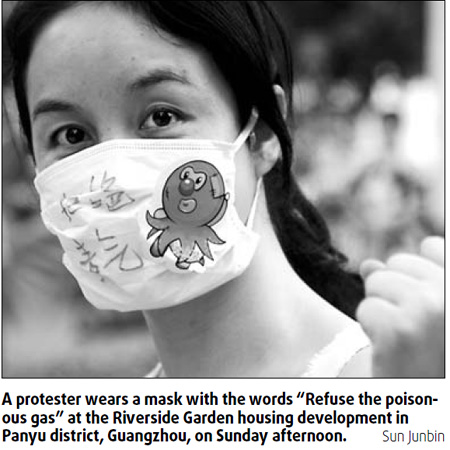 GUANGZHOU: Thousands of residents in the Panyu district in this Guangdong provincial capital have signed a petition opposing construction of a garbage incinerator in their neighborhood.
"Although relevant government departments have promised the facility will meet the State's environment protection requirements, we still worry the project will pollute the environment and harm our health," said a resident from Riverside Garden housing development.
Burning garbage will generate dioxin, which can cause cancers, said the resident, who only gave his family name Wang.
In Wang's housing estate alone, more than 1,300 residents have so far signed up to oppose construction of the project, according to Wang.
"I believe the number of residents who oppose the project will continue to grow in the following months," Wang told China Daily yesterday.
A committee of property owners will hand the signatures over to relevant departments to persuade them to cease construction of the project in the district.
Another resident surnamed Luo from the district's Hailong Bay housing estate said the project should not be built in the district, where many housing estates are located.
Luo said she will move away if construction doesn't stop.
Officials from the Panyu district government said relevant departments haven't received many complaints from local residents opposing the project.
Zhao Zhangyuan, a researcher from the Chinese environmental research institute, said burning garbage causes pollution.
"Burning garbage produces many poisonous gases even when the most advanced technology is used," Zhao was quoted as saying by local New Express Daily.
Zhao, a prominent figure in the fight against burning garbage in China, said no experts dare to promise incinerators are safe if they are less than 1 km away from housing developments.
Property prices of nearby housing estates have fallen at least 10 percent since the project was revealed last month.
But Wang Zechu, a Guangdong provincial government advisor, urged relevant residents in Panyu to adopt a rational and constructive attitude toward the project.
"The project is built to meet the demands of the growing amount of garbage in the district," said Wang, who is also a member of the Guangdong Committee of Chinese People's Political Consultative Conference.
Wang believes the project will not harm the health of local residents because construction of the project will not start if it fails to pass environmental assessments.
An official from the Guangzhou department of landscape said his department would soon organize experts and scholars to assess the project's impact on the local environment.
The department has decided to organize a public hearing on the project within a month.
In addition to experts and officials, participants of the hearing will include residents and property owners from relevant housing estates, the official said.
(China Daily 10/27/2009 page4)