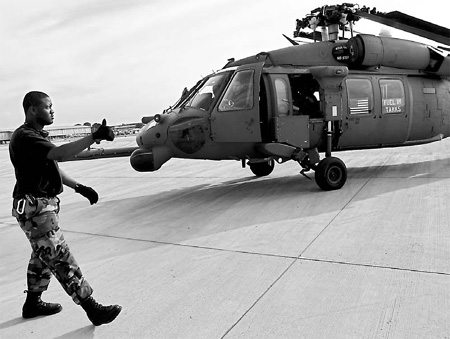 The company, which manufactures Black Hawk military helicopters, has cut costs aggressively through the downturn, eliminating about 5 percent of its staff. Bloomberg News
BOSTON: Diversified US manufacturer United Technologies Corp reported a 17 percent drop in third-quarter profit, less of a decline than Wall Street had expected, as cost-cutting helped offset slumping demand.
The world's biggest maker of elevators and air conditioners said yesterday that orders rates for its products have begun to stabilize after a brutal downturn, with demand beginning to pick up in China. It tightened its full-year profit forecast to the midpoint of its prior range.
United Tech, which also makes Black Hawk military helicopters and Pratt & Whitney jet engines, said third-quarter profit came to $1.06 billion, or $1.14 per share, down from $1.27 billion, or $1.33 per share, a year earlier.
Analysts, on average, had looked for profit of $1.12 per share, according to Thomson Reuters.
Revenue fell 11 percent to $13.38 billion, as the company faces slumps in the commercial construction and aviation markets.
It said it now expects to report full-year profit of $4.10 per share. The company had twice cut its 2009 profit forecast, in July setting a target of $4.00 to $4.20 per share, down from its initial December target of $4.65 per share to $5.15 per share.
"Order rates for most of our businesses have largely stabilized, although the shape of recovery is uncertain," said Chief Executive Louis Chenevert, in a statement.
The Hartford, Connecticut-based company has cut costs aggressively through the downturn, eliminating about 5 percent of its staff, as it copes with falling demand.
The company has said it expects to resume profit growth next year as a result of the cuts.
Its shares were up 6 cents at $65.50 in premarket trading.
United Tech said last week that Chenevert will succeed George David as chairman on Jan 1, completing a transfer of power that has been going on for three years. Chenevert said he does not expect to make additional significant changes to the management team.
United Tech shares have risen about 21 percent so far this year, outpacing the 15 percent rise of the Dow Jones industrial average.
Its competitors include Eurocopter, a unit of EADS, in helicopters, General Electric Co in jet engines, and ThyssenKrupp in elevators.
Reuters
(China Daily 10/21/2009 page17)