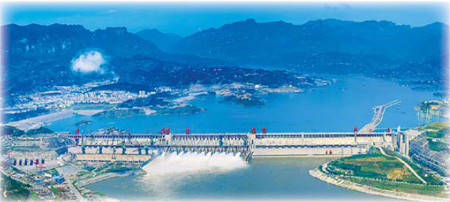 A panoramic view of one of Sinohydro's signature projects - the Three Gorges Dam.
Back in June the No 3 generation unit in Bingling hydropower station - the world's largest CDM hydropower station - came on-line and started feeding into China's national grid for the first times. This was, undoubtedly, an impressive technological achievement, yet it is just one of the many large-scale projects waiting in the wings from Sinohydro, China's leading hydropower engineering and construction company.
The large and medium-sized projects already completed by Sinohydro this year have an accumulated installed capacity of 90,000 mW, however, the company is not satisfied with merely being a major player in China, but now has its sights firmly set on the global market,
Huang Baodong, chairman of Sinohydro, is unashamedly ambitious for his business, saying: "Our company is no doubt the number one in the hydro industry in China and we well deserve to be in that position."
Huang's words are based on a firm foundation. The company now has a 70 percent domestic market share of its sector on the mainland, and has long been the backbone of China's water resources and hydropower industry.
Established in 1950, the company originally traded as the China National Water Resources and Hydropower Engineering Corporation. In 2008, with its revenue up to 70 billion yuan, Sinohydro ranked as 84th among top 500 Chinese companies in the country.
Many of the high-profile projects completed by the company have represented landmark installations for both the Chinese and global hydropower construction industry, in terms of both scale and innovation. The world's largest water control project - the Three Gorges Dam - is one of the company's signature projects.
Sinohydro has also completed several other record-breaking projects in China, including the Guangzhou Pumping Storage Station, now the largest storage station in the world. It also developed the Jinping Power Station, the highest, double curvature concrete arch dam ever constructed.
When it's true that a number of its waterpower projects have been put "on hold" because of their potential damage to the environment, the company now takes its responsibilities in this area very seriously. Addressing the issue, Lu Wen, deputy director of Sinohydro's information center, said: "Chinese people are very concerned about the needs for environmental protection. In line with these concerns we are now managing our water resource and waterpower projects more thoughtfully and more scientifically."
Striding forward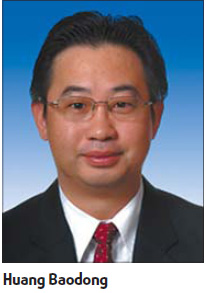 With its future development as a leading brand within China no longer its primary objective, the company is now striving to secure a more substantial share of the international market. To this end, it is now aggressively pursuing its international strategy and has now expanded its operations into fifty countries and regions.
Lu Wen maintained that this was largely in recognition of the changing shape of the hydro industry. He said: "We are gradually concentrating more on the international market. This is down to the government's export stimulus program. Its $42.1 billion budget has really motivated us."
By the end of October 2008, the company had 171 projects completed or under construction in 42 countries and regions around the world, representing a contracted value of more than $11 billion.
Assessing the company's current international success, Huang said: "We have been warmly welcomed by many national governments and local residents. Our Chinese construction teams have contributed hugely to these projects, especially in developing countries. The completion of waterpower stations and public constructions have boosted economies and improved living conditions."
According to Huang, during the last year, these international programs accounted for just one quarter of their total number of projects, but brought in around three fifths of the company's total revenue.
The company currently ranks as 50th among the top 225 international contractors listed by the influential Engineering News Record. It is also in 4th place among Chinese contractors in terms of overseas revenues. Huang said that this was the result of Sinohydro now undertaking more than 50 percent of the world's hydropower projects.
Weathering financial storm
The 2008 financial downturn adversely affected the economy of the whole world and the hydro industry sector was not exempt. The costs of projects rose, whilst profit margins narrowed. Against such a backdrop, many companies were content with just minimizing their losses, but SinoHydro has sought to remain profitable.
The company's financial report reveals that it had bank holdings of more than 4 billion yuan last year. According to Huang, the financial crisis resulted in a downturn for the company's overseas business last year. Commenting on the challenges facing the business, Huang said: "We have a distinct policy for dealing with situations like this. We try and minimize our local exposure to reduce our own financial risks. At the same time, we have attempted to develop lucrative new markets through bilateral cooperation."
Due to last year's fall in international oil prices and a reduction in the price of raw material last year, the national revenue of many developing nations hit an all time low. The property market in the Middle East was a notable casualty.
Huang said: "Developing countries are too dependent on the support of international financial institutions. This makes them almost helpless when a crisis develops. Inevitably, this has a substantial knock-on effect for us, as many of our projects involve these emerging economies."
According to Huang, many developing countries have been faced with cash flow problems at the same time as they have witnessed their levels of required repayments rising. This has resulted in their financial systems being unstable and has created a distinct risk aversion in many would-be investors.
In order to counter these problems, Sinohydro has introduced a dedicated "anti-financial crisis team". Each team member has been tasked with developing an in-depth understanding of the local economic situation facing each of its project partners. They are also responsible for formulating contingency plans should the financial wellbeing of any of their overseas projects be compromised.
The financial crisis aside, the company has also had to contend with a number of lower profile incidents that could potentially undermine its overseas activities. These have included unemployment issues, theft and racial prejudice. In order to counter these problems, Sinohydro has made a point of nurturing stable bilateral relations.
Huang said: "We have benefited hugely from government policies. The way that we have managed the opportunities that have arisen as a result, together with our own awareness of the need to make provisions for change, have been the keys to our success."
(China Daily 10/20/2009 page15)