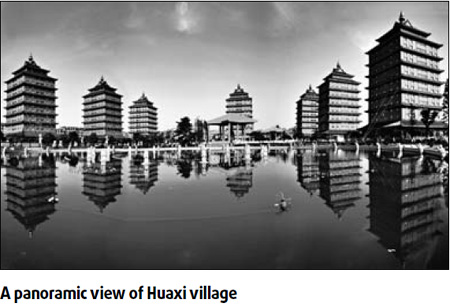 Huaxi village's nickname of the "Number one village under the sky" gives an inkling as to just what the village has to offer and why it attracts tens of thousands of tourists from home and abroad each day.
The village, located in Jiangyin in east China's Jiangsu province, is now attracting as many as 2 million tourists each year. Farming there has shifted from its traditional purpose and has now become a way of providing tourists with a unique experience.
"Huaxi village is really the most charming village. I will tell my relatives about this authentic Chinese countryside when I go home," said Eric, a visitor to the village who has a Bachelors of Arts in Chinese Language from the George Washington University in Baltimore, Maryland.
"Huaxi village is so unimaginably beautiful that it is not only China's Huaxi, but also the world's Huaxi," said a group of 12 American President's Scholarship-winning students who were visiting on a field trip.
"The United States, although well developed in the fields of science, technology and economy, is still in need of a Huaxi village," said Professor Kanen from the US's Cornell University.
The spacious Happy Park, which accommodates the Belief Park with statues of Mao Zedong, Deng Xiaoping, Confucius and Sakyamuni and many other historical figures who have made a substantial impact on people's beliefs is set in the village and has attracted many visitors.
On Huaxi's Longsha Mountain, the village has built on the top a "Tiananmen"(A Gate of Heavenly Peace), a 10 km corridor as well as the "Bridge of Rreturns" to honor the return of Hong Kong and Macao to China.
A sports center with various sports facilities has also been built on the mountain slope.
The village also has two lakes. Different styles of famous ancient and modern bridges span the lake, resembling dragons in the water. Visitors can opt to row dragon boats across the lake and can also fish there.
In the 1990s, when most Chinese farmers could not afford to travel abroad for, Wu Renbao, the village's former Party Committee Secretary, suggested the construction of miniature landscapes of famous sites around the world to let ordinary people have the chance of touring the whole world in one day.
Today, when entering the village's "Czech Villa", "American White House", "German Astronomical Observatory", "French Arc de Triomphe" and "Vienna Gallery", people will feel as if they're looking at the real thing.
The village's advanced agricultural technology is also an attraction for visitors. Its hi-tech agricultural walk-in tunnels span more than 12,000 sq m. The village has also produced a huge pumpkin weighing 140 kilograms and a tiny one weighing only 100 grams.
A lot of people come to the village simply to enjoy the beautiful scenery, while many others come to find out just how Huaxi has earned the reputation as China's most successful and most famous village.
Founded in 1961, the village was very poor at the time, like many others villages throughout China. After 30 years of development, its fixed assets have reached 9.8 billion yuan, sales revenues have topped 50 billion yuan a year, tax payments in 2008 were 1.1 billion yuan, whilst available capital rose to 3.5 billion yuan.
The area of the village now covers 35 sq km, compared with 0.96 sq km in 1961. The village's population has grown from 1,500 in 1961 to 35,000 today.
People attribute most of these achievements to 82-year-old Wu Renbao, who has led Huaxi's development for nearly 50 years and is still making contributions to the village.
"In 2011, on the arrival of Huaxi village's 50th founding anniversary, we expect our available capital to reach 5 billion yuan," Wu said at the opening of Huaxi's second International Tourism Festival on Oct 6.
Like father, like son. Wu Xie'en, son of Wu Renbao, has taken over his father's duties as the village's current Party Committee Secretary and has also earned a good reputation for himself.
"Huaxi's available capital will be very likely to reach 3 billion yuan this year and in the following year," Wu Xie'en said during the opening of the International Tourism Festival. He expressed his hope that the village's financial services would take a leading place among Jiangsu's private enterprises.
(China Daily 10/20/2009 page14)