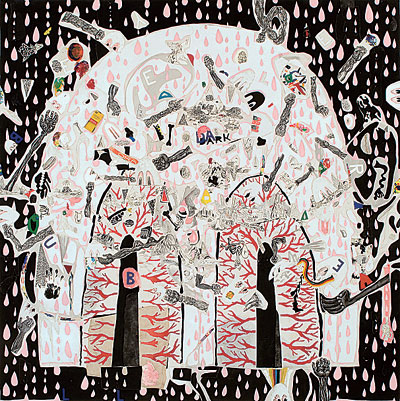 Colorful collages on one wall, a woodcarving on the other; the statue of a frightened white dear that has been swept off its feet by a giant red cape lurking nearby. At first sight these art pieces have nothing more in common than their extravagant appearances, but it is perhaps this very ostentation that explains why the James Cohan Gallery Shanghai has put them on display together.
The gallery's new "Young Americans" exhibition is so called because this is precisely what Trenton Doyle Hancock, Erick Swenson and Alison Elizabeth Taylor are: less than 40 years old and each in possession of very distinct ideas that they express using different styles and techniques
"All three are well-known gallery artists in the United States and Europe. Now we have brought them together to give their Chinese debut," said curator Arthur Solway.
Solway believes the trio will soon gain much recognition in Shanghai and across China.
"We have shown very big names like Bill Viola in this gallery, but we are also showing brand new ideas and art that we think will be emerging. This exhibition is showing the future," he said.
Storytelling is the way Hancock creates a context for his paintings. He invented a whole world populated by cartoon-like characters like the Vegans, a skeletal race who prowl by night and who are engaged in an epic battle with the gentle forest-dwelling Mounds.
In many of his pictures and collages he includes drawings of human hands, a traditional symbol of the act of creation.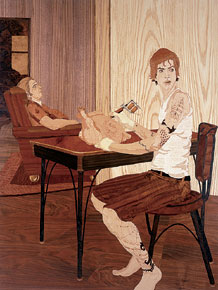 "Like our own corporeal universe, my painted universe is comprised of a series of systems within systems that extend inward microcosmically and outward macrocosmically," Hancock explained.
While Hancock's vivid paintings fire up one's imagination, Taylor's work appears simpler at first glance. However on deeper inspection it soon becomes apparent that her pictures are made from hundreds of tiny pieces of wood.
Taylor rediscovered the Old World art of intarsia - the painstaking technique of creating pictures from wooden inlays. With this method she takes as her subject matter compelling slices of life that usually remain submerged from the public eye, such as that of the young tattooist who practices his skills on a dead chicken.
In comparison to these two artists, Swenson is a more dramatic sculptor, but one whose works still bequeath to the viewer a sense of beautiful serenity. Inspired by animals from popular pastoral myths such as the deer, he creates an atmosphere of fragility, loneliness and isolation.
What is especially unique about the show is that all three artists have a story to tell. From looking at their art one can see who they are. This is why curator Solvay believes they will have a universal appeal.
"Art is a language that can be understood all over the world, no matter if it is shown in the United States, Europe or China," he said.
Until Nov 15, 10 am - 6 pm (Tuesday to Saturday)
James Cohan Gallery
170 Yueyang Road, Building 1
岳阳路170号1号楼
Tel: 5466-0825
(China Daily 10/17/2009 page14)