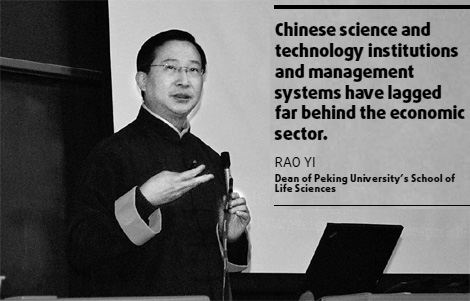 Rao Yi, dean of Peking University's School of Life Sciences. File photo
The dean of Peking University's School of Life Sciences, Rao Yi, has a reputation for speaking out about China's scientific institutions and is considered to be a leading reformist.
He is best-known for his article, A Fundamental Transition from Rule-by-Man to Rule-by-Merit, published in the London-based science journal Nature, in 2005, in which he questioned the merits of China's Mid-to-Long Term Plan (MLP) of Science and Technology (2006-2020) and put forward alternative proposals.
"Intellectuals should have a clear mind on social issues and make due contributions by speaking out and taking action," he says.
Born into a family of academics in Jiangxi province, 1962, Rao says he was determined to become a "scientist influencing mankind" when he sat for the college matriculation examinations in 1978.
The "cultural revolution" (1966-76) had just ended and China was immersed in the "Spring of Science" period that freed up research.
Rao had hoped to study physics and mathematics at the University of Science and Technology in Hefei, capital city of Anhui province, but against his wishes was instead enrolled at a provincial medical college.
Five years later, he became a graduate student at Shanghai Medical University and the lively academic atmosphere generated by the adjacent Shanghai Institutes for Biological Sciences (SIBS) opened his eyes to the exciting possibilities of scientific research.
"Seminars and lectures by leading international scientists sharpened my vision of good science and the huge gap between China and the West in research."
He focused on molecular neurobiology and went to the University of California San Francisco (UCSF) in 1985 to study for his doctorate degree.
UCSF allowed Rao access to a wide range of pioneering research in genetics, developmental biology, structural biology and virology, among other subjects.
"The US scientists' attitudes influenced me greatly, as research was regarded by them as fun. This was quite different from the Chinese concept of scientists putting on a serious face all day long."
Rao's spirit of independence, suppressed so far, was allowed to blossom in San Francisco.
"Science requires innovation and frowns upon repetition. You can hardly rely upon others for new ideas," he says.
Five years later, Rao's research on the "big brain" gene of the fruit fly Drosophila was published in Nature, launching his career as a neurobiologist.
Upon graduation from UCSF, Rao followed up with a post-doctoral fellowship at Harvard University.
"I don't think Harvard was as useful as UCSF in my academic training, but I tried to enjoy the diversity of activities at Harvard, including studying the history of Russia and avant-garde films."
After leaving Harvard, Rao went to Washington University in St. Louis, 1994, and established his first laboratory, where he came to appreciate professionalism.
"Personal relationships often override professionalism in China, but this is not so acceptable in the US," he says.
In the following years, Rao often returned to China and gave lectures at the Chinese Academy of Sciences, which deepened his understanding of the differences between China and the US in terms of an appropriate environment for science and research.
In 1999, Rao joined acclaimed neuroscientist Muming Poo and others in proposing and founding the Institute of Neuroscience in Shanghai, in order to provide an environment for rigorous scientific pursuits and "a merit-based system" for promotion and funding.
A major characteristic of the new institute was its introduction of peer reviews, conducted by international experts, to promote research by their Chinese counterparts.
Rao criticized China's scientific systems in various articles and in a lengthy Nature piece he lambasted the government's tight control of science and technology funds and called on the establishment of a Premier's Office of Science and Technology, to replace the Ministry of Science and Technology, so that scientists would have more freedom.
"Chinese science and technology institutions and management systems have lagged far behind the economic sector For the national leadership, a project bigger in impact and significance than all the MLP (Mid-to-Long Term Plan) megaprojects is to establish mechanisms in science and technology that will allow professionals in China to achieve their full professional potential," he wrote in the controversial article, co-authored with Chinese scientists Lu Bai and Zou Chenglu.
Rao calls himself "a critical constructor" and is happy to report that China's scientific development has improved since 25 years ago, when there was "little research done by native scientists".
Even so, Rao believes further reform is needed.
"Traditionally, Chinese students are expected to get high grades and behave appropriately at the expenses of their personalities and innovative potential. The so-called good students will meet many problems when they are confronted with research and the real world."
After being an associate director of the neuroscience institute at Northwestern University in Chicago for three years, Rao decided to return to China and in 2007 he was made dean of Peking University's School of Life Sciences.
Under his leadership, the school went through a series of reforms covering teaching, research, culture and management. The ultimate aim is to "allow the students' potential to develop to the highest degree so they will be intellectual leaders in the future".
Rao believes current teaching models have deprived students of the initiative to explore the essential uncertainties of science. In lab courses, for example, teachers ask students to do experiments that are almost guaranteed to be successful, which is the opposite of real research.
Rao changed the rules and requested that experiments similar to real research be added to lab courses. The number of lectures and seminars has also been increased substantially.
"The school tries to foster an atmosphere wherein the faculties and students respect and enjoy each other. It also tries to foster a culture within which students and faculties will be able to conduct creative research of great value," Rao says.
Rao also implemented reforms to the school's governance, introducing peer reviews and the annual monitoring of research results. Specialized committees composed of professors decide on the procurement of equipment and formulation of courses.
Though Rao has made improvements he knows further time and patience is needed.
"We should endeavor to seek an education that empowers the future of China," he concludes.
(China Daily 10/14/2009 page20)