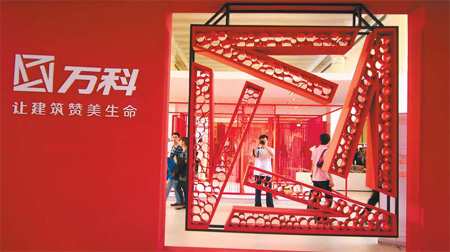 Vanke said the value of sales in September grew 27 percent year-on-year to 5.46 billion yuan. Nan Shan
China's property developers enjoyed a golden September as sales values maintained an upward momentum due largely to continued relaxed lending policies.
However, soaring prices may dent the industry's shaky recovery, a government think tank cautioned.
China Vanke, the country's largest listed real estate developer, said the value of sales in September grew 27 percent year-on-year to 5.46 billion yuan, and space sold in September totaled 537,000 sq m, up 0.8 percent.
Vanke's golden week off-plan sales amounted to 2 billion yuan, outperforming the same periods over the past two years. It means the developer's whole year results have outshone the past two years, financial website Caijing reported.
China Overseas Land & Investment said its sales value more than doubled in September while another top-listed developer, Country Garden, claimed its sales value during the golden week holiday rose 63 percent, boosting confidence that recovery in the pillar industry has taken hold.
China's housing prices have grown at a pace of 1 percent month-on-month since June while space sold declined by 20 percent from June to July, according to a recent research paper by China Land Surveying and Planning Institution, the think tank of the Ministry of Land and Resources.
Sales began to slow down from June because there were fewer houses for sale following a previous glut of properties, said Chen Geng, a property market analyst at Phillip Securities. "Supply shortage encourages the price of property to rise," he said.
The research paper also said that the government's financial stimulus package spurred the current market boom and warned that without real economic recovery and appropriate policy, China's property industry would be pushed into an extremely "perilous" situation.
Meanwhile, experts warned developers not to get complacent, pointing out soaring prices and declining sales volume were an abnormal phenomenon. They called for the industry to be regulated.
China's property sales in September and October have slowed compared with the first half of this year, due partly to the country's tightened mortgage requirements for second-home purchases, according to Gu Yunchang, deputy chairman of the China Real Estate Research Institute.
Residential sales in China increased dramatically during the first eight months of this year, up 70 percent year-on-year, while mortgage loans rose by 94 percent during the same period.
Analysts said the current market boom could be marking a rebound from an earlier downturn. The government was trying to curb excessive expansion in the sector before the financial crash struck the economy. New constructions were stalled but developers continued to buy land.
The real estate market will become more stable in the fourth quarter, according to a report released by property consultants CRIC (China) Information Technology. Currently, real estate companies across China are very keen to accelerate house building, according to surveys conducted by branches of CRIC (China). Macro data shows the floor area under construction for the first eight months of 2009 increased 12 percent year-on-year. The increase is expected to alleviate a supply shortage in China's real estate market.
The supply of housing will rebound by the end of the year or early next year, according to Phillip Securities analyst Chen. With first-tier cities such as Shanghai and Beijing expected to witness a boom in residential supply over the coming months, the market is likely to cool down, he added.
(China Daily 10/14/2009 page15)