PITTSBURGH: Optimistic, sophisticated and upwardly mobile, the Chinese population of Pittsburgh represents much of what's going right in the area.
The city's high-caliber universities and its opportunities in fields such as bioscience, medicine and finance have drawn a vibrant population of Chinese and other Asian immigrants, many holding master's and doctoral degrees. And they're glad that, as the Group of 20 summit comes to town, the rest of the world will see what their adopted home city has to offer.
Perhaps, they hope, it will even spur more Chinese companies to look at the area as a place to do business.
"In the past, if you talked to Chinese people, they would say, 'You live where?'" said Frank Li, who works as a financial advisor and whose wife is a structural biology researcher. The G20 "has been one of the best things to happen to Pittsburgh in terms of putting the city on the global radar screen."
The area "fits a lot of Chinese people's lifestyles" with its relatively clean air and its good school systems, said Fang Liu, who first came to the area in 1983 and now runs a window hardware company. She and her husband have raised a daughter here.
"Chinese people think very seriously about education, low crime rates and financial stability," Liu said. "The majority of Chinese people living in Pittsburgh come here for the opportunities, the jobs."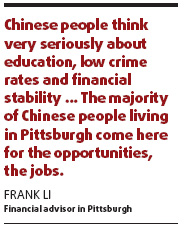 The Pittsburgh metro area has about 10,000 residents of Chinese descent, estimates the Pittsburgh China Center, which promotes business development between the region and China. The US Census Bureau puts the metro area's total population at about 2.4 million.
Thomas Buell, spokesman for the China Center, believes the publicity generated by the G20 will help his organization's efforts as it tells Chinese business leaders about the area.
"Our real opportunity begins the day after the G20," he said. "People may know Pittsburgh from the days of the mighty steel industry, but this will give them a fresh view. We can say it was good enough for the G20, so it's worth taking a second look."
Like the broader city, Pittsburgh's Chinese community has undergone major change. Chinese immigrants, mainly from Cantonese-speaking areas, started coming here as early as the 1850s and eventually developed a small but thriving Chinatown in the downtown district.
Once a complete neighborhood with shops, restaurants, a park, a mayor and even gang wars, it was all but dead by 1959, according to a 2003 Pittsburgh Post-Gazette article chronicling its rise and fall.
All that remains of the heritage now is the still-busy Chinatown Inn. But Pittsburgh's Chinese population, made up mainly of newer immigrants from the Chinese mainland, is more active than ever - just more spread out as more affluent Chinese choose suburban neighborhoods with top-flight public schools.
Pittsburgh is home to numerous Chinese-oriented groups and chapters, including the Chinese Association for Science and Technology, the Organization of Chinese-Americans, a Chinese restaurant association, four Chinese churches and several Chinese schools.
"Every year I'm seeing more and more Asian faces," said David Liu, CEO of Asian Pittsburgh Consulting Group.
He's excited about what the G20 will do for Pittsburgh. But he's disappointed by one aspect: As far as he knows, China's dignitaries have not reached out to the local Chinese community. "I'm really surprised," he said. "A lot of people would love to meet them. Maybe something will happen at the last minute."
James Ritchie is a freelance writer for China Daily's US edition
(China Daily 09/24/2009 page10)