Before 1949, Xinjiang had no professional arts groups or academic research organizations for arts. In the past six decades, with extensive support from the government, arts and cultural facilities of all types have been established step by step, providing rich and colorful cultural activities to local communities. Statistics show that, by 2008 the region had 119 arts and performance groups, two literature and art research institutes, two arts creation centers, 15 mass art galleries, 94 cultural centers, and 1,034 village and town cultural stations. A total of 4,355 individuals became creative and performance professionals. The region has 93 public libraries and 47 museums. In addition, it has six radio stations and eight TV stations at the autonomous regional level, and 93.5% of the local population has access to radio and TV programs. By 2008 households subscribing to cable TV services reached 1,638,900, while those with digital cable TV exceeded 324,200. Since the implementation of the western region development strategy, the state has invested a total of 2.484 billion yuan in developing Xinjiang's cultural facilities. In recent years, the Xinjiang government has initiated a series of cultural programs for the general public, including organizing cultural and recreation activities in city squares and rural villages. The government also schedules professionals to go on tour to rural villages, publicizing cultural, scientific and medical knowledge. Public cultural construction projects have also boomed, introducing different cultures and promoting diverse folk cultures as well as Silk Road border cultures. The government has also set up village libraries, and radio and TV stations all over the autonomous region, to connect local peoples with the rest of the world. Other key projects include sending books and publications to Xinjiang and constructing information centers to share resources with other areas of the country. These measures have significantly promoted the development of Xinjiang's cultural programs and endeavors.
Before 1949 outbreaks of endemic and epidemic diseases were frequent due to the low level of Xinjiang's health and medical services. The overall mortality rate was 20.82 for every 1,000 people, while infant mortality rate was an astonishing 420-600 for every 1,000 births. The average life expectancy was below 30 years. In 1949 Xinjiang had only 54 medical centers, which were located in a few cities and towns, with a total of 696 beds. Every 10,000 persons had to share 1.6 beds and 0.19 doctors. Over the past 60 years, the central government has been making more and more investments in Xinjiang's medical services. By 2008, Xinjiang had altogether 7,238 medical service centers, including 1,629 hospitals with a total of 93,600 beds, and 43,800 doctors. That means 36 hospital beds and 21 doctors for every 10,000 people. Health and epidemic prevention institutions have been established out of nothing, and a systematic urban and rural health and disease-control network has been formed. Local disease control and prevention capabilities have greatly improved; some endemic diseases, such as smallpox, have been eradicated, and the incidence of other endemic and epidemic diseases has been significantly reduced.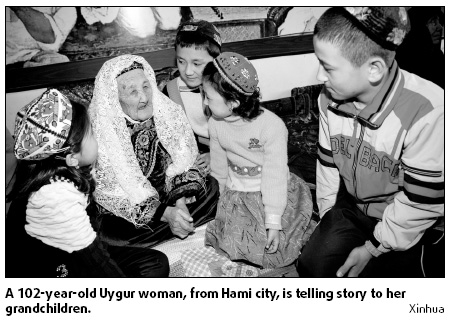 Since the mid-1970s, Xinjiang has implemented a planned immunization program, with the vaccination rate rising steadily over the years. The improvement of healthcare services has greatly improved people's health conditions and quality of life. According to 2008 statistics, the general mortality rate was 4.88 for every 1,000 persons, and infant mortality was 29.76 per 1,000 births. The population's average life expectancy has reached 72 years. Health services in farming and pastoral areas have significantly improved, and a three-tier disease-prevention and healthcare network has been established in counties, townships and villages. Xinjiang implemented the new rural cooperative medical care system in 2003, and 89 cities and counties, or 94.6% of the rural areas, were included in the system by 2008, covering 10,059,000 farmers and herders, and those who actually participated in the program were 9,503,000, or 94.5% of the population covered by the program.
Employment has a vital bearing on people's livelihood. Over the years the Xinjiang government has been committed to the implementation of proactive employment policies and the promotion of employment growth through sustainable economic development. The government has taken effective measures to increase job opportunities and expand the scale of employment. In 2008, a total of 8,475,800 people in Xinjiang were employed. The registered unemployment rate in urban areas was 3.7%. Since the implementation of the western region development strategy, over 300,000 people in Xinjiang have been employed or reemployed each year. Local human resources agencies have been set up and on the increase; and market forces are playing a fundamental role in allocating human resources. A public employment services system has taken shape, comprising of comprehensive services centers at county and district levels, grassroots-level services posts in communities, townships and villages, along with other types of services entities. In 2008, there were altogether 107 public services centers, with 3,944 employees providing resident services and other services.
In recent years, export of labor services has become a new channel for Xinjiang to expand employment. For many years people living in remote areas of southern Xinjiang experienced hardships, since they mainly relied on the not very profitable farming and animal husbandry for a living. Since 2006, the Xinjiang government has launched a labor-export program first in southern Xinjiang's Jiashi County and then throughout the whole autonomous region. Through the program local rural residents could apply for positions at inland companies after signing up and going through training courses that give them the necessary qualifications. The local government is required to appoint a leader (or leaders) who supervise the migrant workers in their new company, and also take along with them Halal cooks to cater to their needs. Since 2006, Jiashi County has exported some 19,000 person-times of labor services to inland enterprises, making a total profit of almost 200 million yuan. The migrant workers enjoy an average per-capita yearly net income of 7,000 yuan, double that of local farmers and herders in 2008. The Xinjiang government attaches importance to professional training for migrant workers, spending 300 million to 400 million yuan each year on such trainings.
Since the introduction of the reform and opening-up policies at the end of 1978, Xinjiang's social-security system has gradually taken shape, to provide basic living guarantees for the people. The 2008 figures show that Xinjiang has 799 community services facilities in urban areas. About 9,645,700 people have taken part in the five major insurance programs, of basic pension insurance, unemployment insurance, medical insurance, industrial injury insurance, and maternity insurance. A total of 638,000 urban residents are receiving the minimum living allowance from the government. Social welfare institutions of various types have 19,000 beds by the end of 2008, taking in 14,000 residents under their care. From July 2007, the rural minimum living allowance system was introduced, providing subsidies for farmers and herders with annual average per-capita income lower than 700 yuan. In 2008, 1,310,000 farmers and herders in extreme poverty received the subsidies. By the end of 2007, medical aid services were available in every city, district and county. In 2008 the government invested 310 million yuan in medical assistance services for a total of 2,164,000 users, including 938,000 receiving medical services and 1,226,000 persons who have participated in medical insurance programs or cooperative medical care programs.
Economic development in such a large region is not balanced. Since the mid-1980s, the local government has launched a large-scale poverty-alleviation campaign, aimed at ensuring basic subsistence for the impoverished rural population, and with a major focus on the promotion of economic and cultural development. The program also underwent changes, from providing money and food, to well-planned development-oriented poverty reduction efforts with good organization and clear goals. Over the period from 1978 to 2008, Xinjiang's impoverished population decreased from 5.32 million to 2.53 million, and their living and working conditions have been significantly improved. In recent years the state has put more efforts into poverty-alleviation in southern Xinjiang, where the situation is the most severe. From 2001 to 2007, 78% of the central and local governments' poverty-alleviation funds, work-relief subsidies and subsidized loans were invested in southern Xinjiang, where 70% of the total poverty-alleviation programs were based. Since 2004, earthquake-resistant housing programs have been carried out in quake-prone areas, a six-year plan to provide safe housing for people in these areas. The state invested 41.2 billion yuan in these programs by the end of 2008, constructing and fortifying 1,895,000 houses. In southern Xinjiang, 742,300 impoverished farming families have since moved into quakeproof housing.
IV. Preservation of Ethnic Cultures
The people of various ethnic groups in Xinjiang have created rich and vibrant cultures which have made unique contributions to the development of Chinese culture. Originating out of a pivotal region along the ancient Silk Road, Xinjiang culture has acquired strong regional and ethnic characteristics, featuring profound heritage, varied forms as well as rich and diverse folk arts. For many years, China has been continually devoted to collecting, sorting out, translating and publishing the cultural heritage of the various ethnic minority groups, protecting their places of historic interest and scenic beauty and other valuable cultural and historical heritages. A preservation system combining government guidance, academic support and public participation has been established, which has ensured the inheritance and development of the fine cultural heritage of all ethnic groups.
Minority folk music and dances are a major cultural component in the culture of Xinjiang. Since the founding of PRC in 1949, art troupes at various levels, art schools and institutes have been established in Xinjiang; they have rescued, collected, compiled and preserved large numbers of folk music and dance works, and trained one generation after another of art workers to pass on and develop further traditional folk music and dances. In the 1990s, some books or book series related to art, including Collection of Chinese Ethnic and Folk Musical Instruments Compositions (Xinjiang Volume), Collection of Chinese Drama Music (Xinjiang Volume), Collection of Chinese Folk Songs (Xinjiang Volume) and Collection of Chinese Ethnic and Folk Dances (Xinjiang Volume), were published, thus effectively guaranteeing the preservation of all categories of fine traditional music and dance of the various ethnic groups in the form of music, music scores and images, as well as text and audiovisual form.
Twelve Muqams, known as "Mother of Uygur Music," is a group of classical music pieces combining Uygur singing, dancing and music, considered a treasure of Chinese ethnic music. Before the founding of PRC in 1949, Twelve Muqams had almost become lost. In August 1951, Twelve Muqams was listed at the top of arts that called for rescue by the people's government of the then Xinjiang Province, which mobilized efforts for systematic research, collection and compilation. In 1955, music recording along with notation and lyric collation of Twelve Muqams was completed; and the music score of Twelve Muqams was published in 1960, marking the turning point from a purely oral legacy to a textual heritage. After the 1980s, the government of the autonomous region established a Muqam research institution and a Muqam art troupe, both of which specialize in collecting, sorting out, researching and performing Uygur classical music, folk songs and dances, especially the muqams, thus further promoting the rescue, preservation and development of the muqam arts. In 2003, Xinjiang Uygur muqam arts were included in the first group of pilot projects in the "Chinese Ethnic and Folk Cultural Preservation Program." In 2005, Xinjiang Uygur Muqam Arts of China was approved by UNESCO as "Masterpiece of the Oral and Intangible Heritage of Humanity."
The Sixty-two Kongeri (62 melodious divertimentos) is a comprehensive art form mainly composed of kui (instrumental music composition) while combining folk songs, dances and ballad-singing, representing the finest of Kazak folk culture. Since the 1990s, the government has set up special organizations for the collection, compilation and publication of Akku Kongeri (White Swan Divertimento).
Xinjiang boasts a wealth of folk literary resources of all ethnic minorities. With state support over the years, the government of the autonomous region has formulated plans and organized efforts to systematically rescue and preserve the folk literary works of the various ethnic minorities, resulting in the collection, compilation, translation and publication of a large number of folk literary heritages of the Uygur, Kazak, Mongolian, Kirgiz, Tajik, Xibe, Uzbek and other peoples, including folk song lyrics, myths and legends, humorous anecdotes and stories, fables and proverbs. Great achievements have been made in collecting, editing, translating, publishing and researching of folk epics, including Manas, Janger and Life of King Gesar. A Comprehensive Turkic Dictionary and other exceptional minority historical and cultural heritages have been effectively preserved. The Uygur literary classics Rabiya and Se'idi and Ferhad and Sherin, and the Kazak long poem Seliha and Semen were edited and translated into Chinese and published. The compilation of Collection of Chinese Folk Literature (Xinjiang Volume) has also been completed.
Ancient books of Xinjiang minorities, in multiple languages with extensive distribution, represent a major component of China's traditional cultural heritage. In the early 1980s, a planning and leading team, along with an office in charge of the collection, editing and publication of ancient books of ethnic minorities, was established in Xinjiang. Similar organizations were successively established in four autonomous prefectures, eight other prefectures, one prefecture-level city and several counties. Since then, the work to rescue, collect, edit and publish such ancient books have been in full swing throughout the whole autonomous region. By 2008, the Xinjiang Minorities Ancient Books Editing Office collected and registered 20,518 volumes (or pieces), with over 100 titles published, including facsimiles of three handwritten copies of the Uygur classic Kutadgu Bilig, the Kazak medical opus Annals of Medicine, and the Xibe Shamanist classic Shaman Divine Songs, among others.
To promote the rescue, compilation, research and preservation of intangible cultural heritage in the autonomous region, the Xinjiang Intangible Cultural Heritage Preservation Research Center was established. It formulated and promulgated regulations on how to administer intangible cultural heritage preservation projects and provisional rules on applying for and appraisal of masterpieces of the intangible cultural heritages. In 2006 and 2008, 63 intangible cultural heritage projects in Xinjiang, including the Kirgiz epic Manas, Mongolian epic Janger and Kazak Aytes, were listed in the first and second groups of national intangible cultural heritage.
Xinjiang is a region very rich in historical sites. By 2008, over 4,000 cultural relics sites had been found in Xinjiang, of which 58 were listed as key spots of cultural relics under state protection. The state has always attached great importance to the conservation and renovation of historical sites in Xinjiang, and significant achievements have been made in legislation on cultural relics preservation, archeological study and excavation, renovation and conservation of cultural relics, and their exhibition. Under the guiding principle of "giving priority to both conservation and rescue," a large-scale renovation has been carried out to the region's key cultural relics sites, including the Kizil Thousand Buddha Caves, Kumtura Thousand Buddha Caves, Simsim Thousand Buddha Caves, Bezkilik Thousand Buddha Caves, Gaochang Ancient City Ruins, Hami King's Tomb, Former Residence of Yili General, etc. A number of renowned architectures representing the preeminent historical and cultural heritages of the Uygur, Mongolian, Hui, Xibe and other peoples have been properly renovated and preserved, including the Tomb of Afak Hoja in Kashi, Tomb of Tughluk Tumur in Huocheng, Zhaosu Lamasery, Former Residence of a Mongolian Prince in Hejing, and Chimtoghrak Manor. In 2009, the "Key Cultural Relics Rescue and Conservation Program for the Silk Road (Xinjiang Section)" was launched in the autonomous region. Extensive financial and human resources have been mobilized for the comprehensive rescue and preservation of large historical sites and key cultural heritages along the main route of the ancient Silk Road in Xinjiang.
In recent years, significant progress has been made in the conservation of Kashi, as well as other famous historical and cultural cities. Kashi was historically a place of strategic importance on the Silk Road. The city and its culture have distinctive ethnic characteristics. But the city is located in an area frequently hit by earthquakes, and houses in the old city of Kashi are mostly old and dilapidated, extremely vulnerable to earthquakes or fire. To protect people's life and property, and improve their living conditions, while enhancing the quake-resistance of the old houses and preserving the original appearance of the ancient city, China officially undertook the comprehensive restoration of dilapidated houses in old Kashi city in February 2009. Three billion yuan will be spent on the renovation work which will be done in line with the national conservation standards for historical and cultural cities. During the renovation efforts will be made to maintain Kashi's original appearance, so the structures will keep their original architectural and cultural characteristics after the renovation.
Folk cultures and arts in Xinjiang have seen further development on the basis of inheriting the past legacy. Traditional cultural events, such as the Uygur's "Meshrep," the Kazak's "Aytes," the Kirgiz's "Kobuz Ballad Singing Fair," the Mongolian "Nadam Fair," the Xibe's "West Moving Festival" and the Han people's "Lantern Festival," have been widely held. A number of impressive dramas with rich ethnic and regional characteristics have been staged, such as the modern drama Ghunchem, the Uygur play Gherip and Senem, the acrobatics show Darwaz, as well as the Kazak Aytes, Kirgiz Manaschi ballad drama Manas. In the 21st century, more than 20 folk song and dance performances, including The Good Place Called Xinjiang, Joyous Songs of Tianshan Mountain and Kashgar, have won national prizes.
To ensure minority languages keep pace with the development of our time, China has set up the "Work Committee of the Xinjiang Uygur Autonomous Region on Languages and Scripts of Ethnic Minorities" and research institutes of minority languages at varied levels, responsible for regulation, standardization and scientific research and administration of the languages of the ethnic minorities. With government support, software such as the "Bogda Uygur-Kazak-Kirgiz Languages Typesetting System," "Xibe and Manchu Languages Processing and Efficient Printing System," "Xinjiang 2000" and "Arabic and Multiple Languages Typesetting System," has been developed. They provide clues to the standards and software development methods for languages of other ethnic minorities in terms of software code, keyboard layout and input methods.
V. Upholding Ethnic Equality and Unity
The Xinjiang Uygur Autonomous Region is inhabited by people of many ethnic groups. According to the fifth national census in 2000, Xinjiang is home to people of 55 ethnic groups, including the Uygur, Han and Kazak. In 2008, Xinjiang's population totaled 21.308 million, of which people of ethnicities other than the Han was 12.945 million, or 60.8% of the total. In 2007, there are three ethnic groups each with a population over one million, namely, Uygur (9.651 million), Han (8.239 million), Kazak (1.484 million); three ethnic groups each with a population between 100,000 and one million: Hui (943,000), Kirgiz (182,000), and Mongolian (177,000); and six ethnic groups each with a population between 10,000 and 100,000: Tajik (45,000), Xibe (42,000), Manchu (26,000), Uzbek (16,000), Russian (12,000), and the Dongxiang. The population of all the other ethnic groups is less than 10,000.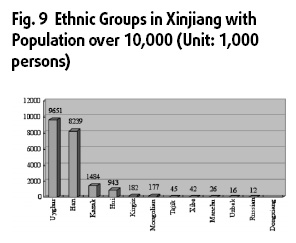 Xinjiang has been inhabited by diverse peoples since ancient times. The inhabitants of Xinjiang all migrated from other areas historically. According to historical records, in 101 BC the Han Dynasty (206-220 BC) began stationing garrison troops to open up land for crop cultivation in Luntai (Bugur), Quli and other areas. Later, it sent more troops to all other parts of Xinjiang for the same purpose. After the Protectorate of the Western Regions was established in 60 BC by the Han central government, the inflow of Han people to Xinjiang, including officials, soldiers and merchants, never stopped. By the end of the dynasty, Han residents could be found in scattered settlements in Xinjiang, with garrison reclamation points forming compact communities. The Han thus became one of the earlier peoples who inhabited Xinjiang. After 1759, the government of the Qing Dynasty sent Manchu, Mongolian, Xibe, Daur (Suolun), Han and Hui troops to Xinjiang in order to strengthen the frontier defenses of the region, and encouraged Uygurs to move from southern Xinjiang to Ili in the north, as well as Han and Hui people from inland areas to migrate to Xinjiang to promote production. From the late 19th century to the early 20th century, a great number of Russian, Uzbek and Tatar people settled down in the region. When the People's Republic of China was founded in 1949, Xinjiang was comprised of 13 ethnic groups, with Uygurs as the majority. Each ethnic group was characterized by living together or mixing with other groups, or in compact communities. The majority in southern Xinjiang were Uygurs, while northern Xinjiang was mainly inhabited by Han and Kazak peoples. The Kirgiz, Xibe, Tajik and Daur peoples mostly lived in compact communities, while most of the remaining ethnic groups reside scattered among other groups.
Since the founding of the PRC in 1949, an increasing number of people have moved to and from Xinjiang, making more prominent the phenomenon of a multi-ethnic population living together. Especially since reform and opening-up in 1978, many citizens, guided by market forces, have frequently moved simultaneously and on their own will between Xinjiang's rural and urban areas, between its northern and southern areas, and between Xinjiang and other inland areas, for the purposes of education, employment, business or job-seeking. In 2008, about 240,000 surplus laborers went from Xinjiang to work in the economically developed coastal areas. In addition, there are large seasonal flows of people moving within Xinjiang or between Xinjiang and other inland areas. Each year from late August to November, hundreds of thousands of people from other provinces and municipalities go to Xinjiang to pick cotton.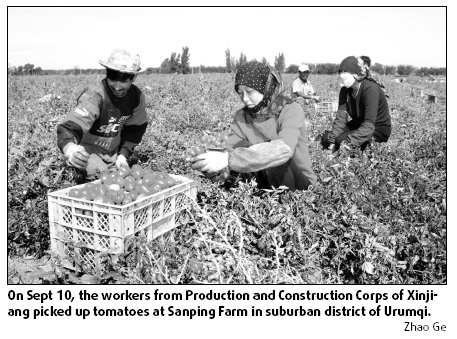 The socio-economic development of Xinjiang has given rise to a recurrent flow of labor, leading to a series of changes in the population and ethnic distribution in the region. First, the number of ethnic groups has increased. In 2000, except for the Jino people, Xinjiang was inhabited by people of 55 of China's 56 ethnic groups. Second, the population of almost every ethnic group in Xinjiang is increasing. From 1978 to 2007, the populations of the region's four largest groups - Uygur, Han, Kazak and Hui - have increased, respectively, 74%, 61%, 81% and 78%. Third, the percentage of the population of each minority in their traditional settlements has decreased. For example, the ratio of Uygurs in southern Xinjiang's three prefectures, namely, Kashi, Hotan and Aksu, to the total Uygur population in Xinjiang fell from 84.6% in 1944 to 71.5% in 2007. The percentage of Kazaks in the Kazak Autonomous Prefecture of Ili to the entire Kazak population in Xinjiang decreased from 83.4% in 1944 to 76.8% in 2007. Fourth, the multi-ethnic mixture in the cities and towns of Xinjiang has become more prominent, and the population of ethnic minorities has increased in the cities. Urumqi, the capital of the autonomous region, is inhabited by people from 52 ethnic groups, and the percentage of minority residents in the city's total population increased from 18% in 1978 to 27% in 2007.
The diverse peoples of Xinjiang have formed deep friendships while living together for generations. Over the last 60 years, they have established, developed and consolidated strong ties of mutual respect, trust, support and harmony. These make up the important contents and fundamental guarantees for the advancement of Xinjiang.
Recognizing the existence of each ethnic group and guaranteeing its equal rights in every aspect is the fundamental principle and policy of the Chinese government to handle ethnic problems. It is also the foundation of all other policies concerning the ethnic issue. The Constitution of the PRC stipulates: "All ethnic groups in the People's Republic of China are equal. The state protects the lawful rights and interests of ethnic minorities, and upholds and develops the relationship of equality, unity and mutual assistance among all of China's peoples. Discrimination against and oppression of any ethnic group is prohibited; any acts that undermine national unity or instigate secession are prohibited." In Xinjiang, citizens of every ethnic group enjoy the rights prescribed by the Constitution and laws, including freedom of religious belief, and rights to vote and stand for election, to equally administer state affairs, to receive education, to use and develop their own spoken and written languages, and to preserve and advance the traditional culture of their own peoples.
Over the past 60 years, China's central government and local governments in Xinjiang have made tremendous efforts to protect equal political rights and social status for each and all of Xinjiang's peoples, and achieve their common development and prosperity. Before the founding of the PRC in 1949, there were still remnants of feudal serfdom in some areas of southern Xinjiang, and in certain individual areas serfdom was even found intact. In the 1950s, democratic reform was carried out in Xinjiang. The abolishment of the old system enabled minority peoples to enjoy basic human rights, with their rights to participate in the administration of state affairs under special protection. In the previous terms of National People's Congress (NPC), deputies were selected from minority communities in Xinjiang for proportional representation. All 60 deputies in the Xinjiang delegation to the 11th National People's Congress came from 11 ethnic groups, and 60% of them were ethnic minorities. At present, some members of the NPC Standing Committee and the leadership of the Chinese People's Political Consultative Conference are from Xinjiang's minority ethnic groups. In the local people's congresses of Xinjiang, there are deputies from each ethnic group who live in compact communities. In the Ninth People's Congress of the autonomous region, the 542 deputies were comprised of 13 ethnicities, and the proportion of minority deputies accounted for 65.5%, four percentage points higher than the ratio of the minority population to the total population of the region.
(China Daily 09/22/2009 page9)