A well-known Chinese hacker has struck again, hitting a film festival showing a documentary about Uygur separatist Rebiya Kadeer.
Around 3 pm yesterday, Taiwan's Kaohsiung Film Festival webpage was replaced with an image of the People's Liberation Army with China's national anthem playing in the background. The image was later changed to a picture of Kadeer with the Dalai Lama, who recently visited Taiwan.
The hacker defaced the website with the message: "Against Xinjiang separatists, against Tibet separatists and happy 60th birthday to the People's Republic of China! Perhaps oldjun!"
"Oldjun" is also the hacker who replaced the official website of the Melbourne Film Festival with an image of the Chinese flag and some anti-Kadeer slogans in late July after the organizer refused to withdraw the documentary.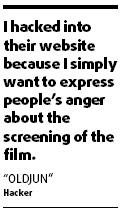 "I hacked into their website because I simply want to express people's anger about the screening of the film," the 25-year-old network administrator "oldjun" from Nanjing exclusively told China Daily yesterday. "It is the same reason why I hacked into the Melbourne Film Festival's website."
He said he found security flaws in the website and hacked into it within one minute. "It is my own doing. Nobody told me to do it. I really don't understand why they have to show the film." The website returned to normal around 7 pm last night.
Kaohsiung decided to screen the documentary about Kadeer called "Ten Conditions of Love" starting today, ahead of its annual film festival, to end controversy about the movie. The mainland's Taiwan Affairs Office had urged the festival not to screen the film.
The Taiwan Affairs Office spokesman expressed "resolute opposition" to the city's decision, saying Kadeer is a separatist and was behind the July 5 riot in Urumqi, capital of the Xinjiang Uygur autonomous region, which led to 197 deaths and more than 1,700 injuries.
"Improving and developing cross-Strait relations is the common hope of mainland and Taiwan people. Any attempt to disturb or sabotage the mainstream view will get no support," Wang Yi, the mainland's Taiwan affairs chief, said yesterday.
Despite criticism from the mainland over the showing of "Ten Conditions of Love" in Kaohsiung, the film will also be shown in Taipei, said a city official yesterday.
"We've gotten a lot of inquiries on this," said Wu Tsai-ping, manager at Taipei Stock, the cultural centre that is planning to show the film. "We'd like to show it as many times as possible." The centre aims to offer the film on Oct 1, the 60th anniversary of the founding of People's Republic of China, Wu said.
Xinhua and Reuters contributed to the story
(China Daily 09/22/2009 page4)