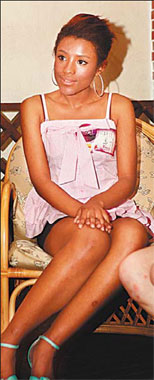 Shanghainese Lou Jing's Chinese and African heritage sparked controversial debate when she appeared on Dragon TV's reality talent show Go! Oriental Angel.
"The whole thing was a big bomb to my family and me, and it caused great harm," the 20-year-old told Neteast News on Sept 14.
"I wish netizens could tolerate my particular parentage and let it go as soon as possible."
Lou Jing's biological father is an African American who left Lou's mother more than 20 years ago. Her mother raised her alone in Shanghai.
Her life was peaceful as she studied at the Shanghai Drama Academy until she decided to participate in a girls' talent show produced by Dragon TV, Shanghai Media Group.
When she became one of the five Shanghai finalists, the color of her skin became a national issue. She also became a target for cruel gossip on Aug 30, when her mother shared their family's story on the show.
Netizens criticized the mother, sharply blasting her with condemnations related to extramarital affairs, illegitimate children and race.
Web users' debate over Lou Jing intensified around the end of August.
A netizen with the handle "Zheng Aitianxia" wrote a post entitled "Lou Jing's American Black Father and Shanghai Mother" on the Chinese forum Tianya that attracted more than 100,000 views and some scathing comments.
A netizen using the ID "Lou Jing" responded, claiming "My father is an American, not an African".
But the statement only made the situation worse, as it was regarded as discriminatory against Africans.
On Sept 4, Lou denied the online posting's authenticity and asked "netizens and irresponsible media to stop the harm" they were causing during a press conference organized by Go! Oriental Angel after she was eliminated from the show.
"Lou Jing seems to be sensitive about the media coverage because of the pressure it creates in her life," Zhou Jie, the show's spokesperson, told China Daily.
"We showed our sympathy and understanding, and tried to eliminate the negative online comments through our network partners."
Many public figures have started weighing in, as racism has become central to the issue.
"In the same year that Americans welcome Obama to the White House, we can't even accept this girl with a different skin color," acclaimed writer Hung Huang posts on her blog.
(China Daily 09/18/2009 page18)