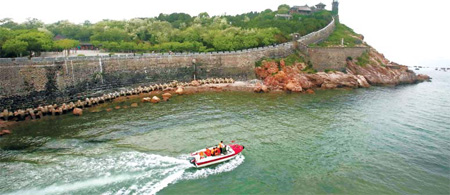 High-speed boating at the Penglai Pavilion. Ju Chuanjiang
As the grape harvesting season approaches, increasing numbers of tourists are heading to Yantai to explore for themselves the city's vast expanse of coastal vineyards. Here they can observe the traditional skills of the city's winemaking industry, help pick the grapes and, most temptingly, sample some of its excellent vintages.
Yantai's "wine culture" tourism has become one the most fashionable style of vacations for visitors to the northeastern Shandong province. The Changyu Wine Culture Museum plays host to more than 12,000 visitors from at home and abroad every day.
In the corridors of the Changyu Castel Chateau, tourists are able to sample fine wines, whilst enjoying its excellent sea views. It is fast becoming the favorite pastime of overseas visitors.
Hong Yuyan, general manager of the Changyu International Wine City, said: "The interest that overseas visitors take in the wine culture of our city is quite staggering. Over the past three years, the number of foreign visitors has doubled annually."
According to local statistics, the Changyu Wine Tour is the only one of the city's attractions to have attracted 130,000 tourists in the first eight months of the year.
Yantai is the only place in Asia to be acknowledged as an "International Grape and Wine City", a rare honor bestowed by the International Office of Vine and Wine. As a result, Yantai has now become one the major destinations for China Wine Culture Tourism.
Considered as the world's seventh-largest grape coast, Yantai is viewed as the traditional birthplace of China's wine industry. Its output of wine accounts for over 30 percent of the total produced in the country.
Along the 100 km coast is some 250,000 mu (16,675 hectares) of vineyards, complete with picturesque chateaux bestriding the landscape. The city is home to more than 10 chateaux, including such fine examples as the Changyu Castle, Nanshan and Junding chateaux. Such is their popularity, that there are now 20 new wine chateaux under construction. Chateaux of all description are now a major attraction for the increasing number of foreign visitors heading to Yantai every year.
A series of wine-related projects are also under construction. These include the World Wine Expo Center and the Wine-Style Street, which, it is hoped, will attract wine entrepreneurs from all around the world to invest in the city, according to Yin Guowen, director of the Yantai Tourism Bureau.
Yin says: "Yantai's wine tourism is designed to integrate sightseeing, leisure holidays and wine culture, making it extremely competitive in the modern tourism industry. The city's reputation as the Oriental Wine Coast has also acted as a lure for tourists from all over the world."
Since 2007, an International Wine Festival has been held annually in Yantai, providing a further boost to both the local tourist industry and the popularity of the city.
(China Daily 09/10/2009 page24)