Star proves caring act
Noted mainland actress Zhang Jingchu (pictured left), who plays a rescuer working in the quake zone in Feng Xiaogang's new film The Tangshan Earthquake (Tangshan Da Dizhen), works as a philanthropist in real life, too.
The actress, who also appeared in the award-winning films Peacock (Kongque) and John Rabe, is ambassador of the charity SiyuanAOC Rainbow Plan, founded by China Siyuan Foundation for Poverty Alleviation and AOC Monitor. Since starting a year ago, the plan has been financially supporting education in Sichuan province's quake zone. And since June, 100 university graduates have been recruited as volunteer teachers in 100 schools. AOC will provide the schools with computers and online libraries.
Zhang, who grew up in an ordinary workers' family in impoverished Yong'an city in Fujian province, says she will do her best to fulfill her job, encouraging more people to join the cause.
Orchestra honors Mendelssohn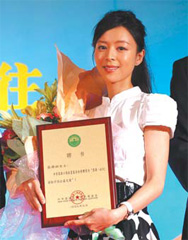 The orchestra of the National Ballet of China will perform at the National Center for the Performing Arts tonight to celebrate the 200th anniversary of the birth of composer Felix Mendelssohn (1809-1847). The orchestra invites Gernot Schmalfuss from Germany to conduct.
It will play Mendelssohn's Overture of A Midsummer Night's Dream, Violin Concerto in E minor and Third Symphony in A minor. The young violinist Liu Xiao from Central Conservatory of Music will play the violin concerto.
The concert is also the last of its series to celebrate the 50th anniversary of the founding of National Ballet of China. Founded in 1959, the company has become one of the world's top ballet companies, and its dancers have snapped up numerous awards in international competitions. "Its orchestra also demonstrates high quality, not only in performing the ballet music but also a variety of Western classic repertoire, including the Mendelssohn pieces," conductor Schmalfuss says.
Fantasy flick howls into theaters
Mainland director Tian Zhuangzhuang's latest work The Warrior and the Wolf (Lang Zai Ji) will hit theaters on Oct 2.
Adapted from Japanese writer Yasushi Inoue's novel, the fantasy flick tells the story of an ancient Chinese general and his lover from a cursed clan with mysterious connections with wolves.
Tian (pictured) has revised the script seven times since Taiwan director Hou Hsiao-hsien recommended the story to him 14 years ago.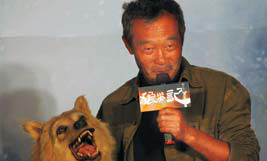 Starring Japanese A-lister Jo Odagiri and American actress Maggie Q, the film is believed by some to be a first try at commercialized blockbusters by Tian, known as an art-house director.
But Tian denies he is changing. He insists he still only makes film when he really has something to say from inside his heart.
The film will compete against several other blockbusters also screened around October, such as spy thriller The Message (Feng Sheng) and The Founding of a Republic (Jianguo Daye), a film studded with more than 100 stars.
Healing broken hearts together
Hilary Swank wasn't attracted to her boyfriend when she first met him.
The Oscar-winning actress - who is dating her former agent, John Campisi - admits there was no initial chemistry between them because they were both dealing with heartaches.
Hilary, who was in the process of divorcing Chad Lowe when she started working with John in May 2006, explains to Britain's Hello! magazine: "There was no spark. What's interesting is, there was never anything - it wasn't until we were well into the dissipation of our respective relationships. Going through something so difficult at the same time, we became very good friends. We became closer and closer.
"It was so unexpected. We both recognized that if we were going to take the relationship to the next step, we could no longer work together."
Although the 35-year-old star says she has no plans to marry John, 41, in the near future, she hopes to start a family with him one day and enjoys spending time with his son Sam, from a previous relationship.
China Daily/Agencies
(China Daily 09/10/2009 page18)