China's unprecedented plan to offer subsidies for utility-scale solar power projects is likely to spark a new round of investment from Chinese solar panel makers. The nation is trying to catch up in a global race to find alternatives to fossil fuels, blamed for carbon emissions affecting the planet's climate.
In the latest move to boost domestic solar industry, the Ministry of Finance unveiled a subsidy plan in late July. The government will subsidize 50 percent of investment for solar projects as well as relevant transmission and distribution systems that connect to grid networks.
For independent photovoltaic power generating systems in remote regions that have no power supply, the subsidy will rise to 70 percent, the ministry said in an announcement on its website.
Grid companies are required to buy all surplus electricity output from solar power projects that generate primarily for the developers' own needs, at rates similar to benchmark on-grid tariffs set for coal-fired generators.
To qualify for the subsidy, in addition to other requirements, each project must have a capacity of at least 300 kW peak, complete construction in one year and keep operations going for at least 20 years. The government plans to install more than 500 mW of solar pilot projects in two to three years.
China's bid to boost the solar energy sector could draw more than $10 billion in private funding for projects and put China on track to become a leading market for solar equipment in the next three years.
"Given the nascent nature of China's solar domestic market, this 500 mW program, though not huge, sends a strong signal that China is serious about developing its domestic solar market, and will undoubtedly stimulate more activity in domestic deployment by enterprises outside of the subsidy program," said Julian Wong, a senior policy analyst with the Center for American Progress.
"It's the policy from the central level to the provincial level, and all the government officials in China have been mobilized to develop renewable energy and new energy," said Jing Su, director of the US-China program with the American Council on Renewable Energy, which assists US companies in developing renewable energy projects in China.
In March, the Finance Ministry said it would provide 20 yuan per watt peak (Wp) of subsidy for projects attached to buildings that have capacity of more than 50 kW peak, which could cut the power generating cost by around half to about 1 yuan per kWh. And, the state-owned banks are flooding the industry with loans at considerably lower interest rates than available in Europe or the United States.
China is expected to raise its 2020 solar power generation target more than fivefold to at least 10 gW. With incentives, analysts expect that over 2 gW in new solar capacity will be installed as early as 2011, up from just over 100 mW in 2008.
Six regions and provinces in Northwest China are the best suited for solar PV stations in terms of sunshine days. These are Inner Mongolia, Xinjiang Uygur autonomous region, Gansu, Ningxia, Qinghai and Shaanxi, said Shen Yanbo, an expert from the National Climate Center.
In the global market of solar industry, Germany will still dominate demand this year, according to Barclays Capital, overtaking Spain following a cap on state support there, Reuters reported earlier.The global economic recession and a pullback in subsidies in Spain and Germany have led to an oversupply of solar panels that has driven down prices and hurt panel makers' profits. But Chinese manufacturers will continue to grab an increasing share of production despite a fall in prices, said New Energy Finance analyst Jenny Chase.
China accounted for about a third of the global market for solar cell production in 2008 while Europe's share declined to about a quarter, according to a survey by German industry publication Photon.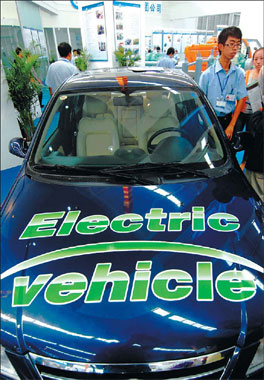 A homemade pure electric vehicle (EV) debuts at the 8th China International Equipment Manufacturing Exposition in Shenyang on Sep. 2, 2009. Staffs on site introduced that this pure EV powered by lithium-ion polymer battery has a top speed of 130kph, a cruising range of 180km for one charge and only uses 20 minutes for 80 percent fully charged.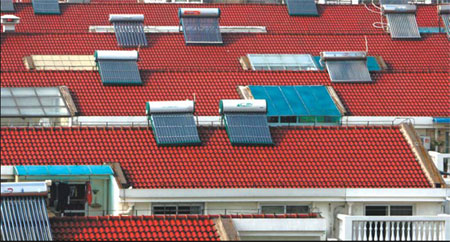 (China Daily 09/10/2009 page34)