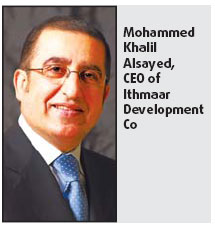 Greater provision of health care forms a key pillar of Vision 2030 and Bahrain is actively seeking public-private partnerships to assist the development and expansion of the sector.
For a relatively small country, Bahrain has a big reputation for health tourism due to its high quality care and modern technology. "Our health-care facilities are in line with international standards and benchmarks, although we need to focus on automation in order to improve access to these services," said Minister of Health, Dr Faisal Yacob Alhamer.
With its core focus on the development of world-class hospitality and health-care projects, Ithmaar Development Co (IDC) is poised to make a significant impact in Bahrain's fast-growing health tourism sector.
The wholly owned development arm of Ithmaar Bank BSC is creating the stunning Dilmunia Health Island - a $1.6 billion health-oriented mixed-use resort that includes a Chinese-themed hotel. This flagship development is being built on a 1.25 million sq m reclaimed island, the anchor component of which is the Dilmunia Health District that will include a state-of-the-art wellness hospital, a modern maternity and children's hospital, and several health centers specializing in areas like acute care, aesthetics, diabetes, diagnostics, nutrition, research and sports medicine. Patient services at Dilmunia will include concierge services, airport transfer, interpreters, visa and travel services, and international medical and insurance coordination.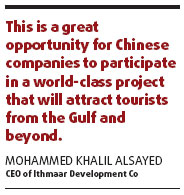 Billed as a secluded oasis centered on the concept of a "balanced life", Dilmunia will have extensive green areas and both covered and open promenades to promote physical activity. The development will also boast luxury hotels with spas offering holistic treatments from around the world, and a selection of apartments, condominiums, and villas, plus offices, malls, and restaurants.
As CEO of IDC, Mohammed Khalil Alsayed is charged with transforming the vision of Dilmunia Health Island into reality. He sees a range of opportunities for Chinese investors in all phases of this major project. "This is a great opportunity for Chinese companies to participate in a unique mixed-use project that is truly world class. Dilmunia Health Island will attract many tourists from the Gulf and beyond. We have a Chinese-themed hotel and are looking into alternative medicine - including traditional medicine from China. There are major opportunities for Chinese contractors and specialized companies in the island's development, and for firms that supply Chinese products such as furniture, decor, and interiors. The opportunities are endless."
As greater numbers of tourists enjoy Bahrain's natural beauty, so companies in the aviation sector benefit from higher passenger levels. Formed in 1990 and with prime locations at Bahrain International Airport and the new cruise liner terminal at Hidd Port, Bahrain Duty Free's fortunes have mirrored that of the Kingdom. Turnover and profits continue to climb, and the retailer has a new online sales portal. Bahrain Duty Free is also in-flight sales operator for leading low-cost airline Bahrain Air. With the expansion of the airport so that it can handle 28 million passengers a year by 2030 - four times its current capacity - the retailer is perfectly placed to take advantage of Bahrain's popularity among tourists and business executives. "As Bahrain grows and develops, the flow of people increases and that creates great opportunities for us," commented general manager, Steve O'Connor.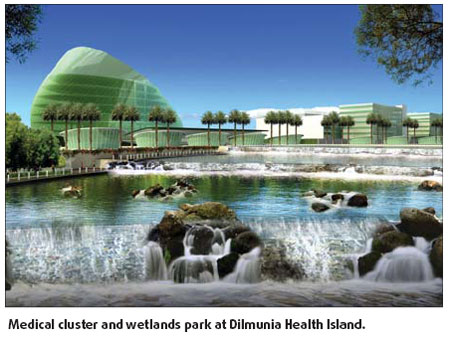 (China Daily 09/10/2009 page7)