One of the world's manufacturing giants took a step forward in its standing among global economic powers as the most robust economy last year took an unsurprising fall.
China advanced one spot this year to the 29th most competitive economy despite the worst global financial crisis since the Great Depression through the 1930s, the Geneva-based World Economic Forum said yesterday.
The Unites States, however, was knocked from the top spot by Switzerland as the most competitive economy, according to the forum's Global Competitiveness Report 2009-2010.
China continues to lead the way among large developing economies and amassed the second largest market size and the eighth most stable macro economy among the 133 economies in the report.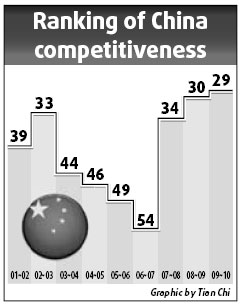 But despite the glowing reports, China must also tackle shortcomings in areas such as financial markets (ranking 81st), technological readiness (79th) and education (61st), all clear signs that the most populous nation can no longer rely on cheap labor to generate growth.
"The country shouldn't be too proud over its improvement in competitiveness. It's high time that China changed its development model. Or else we can hardly expect its further promotion in the competitiveness list," Wang Yizhou, a researcher of world economics and politics studies at Chinese Academy of Social Sciences, told China Daily.
The report said China should focus increasingly on improving efficiency and that the lack of efficiency may challenge the country's aim of a minimum 8 percent growth rate. However, China can already rely on a relatively sophisticated business environment (38th) and its capacity to innovate (26th).
In addition, China's enviable fiscal situation allows the government to stimulate domestic demand, invest in infrastructure and pursue economic reforms, according to the report.
"China's financial system] is partly a reflection of the interlinked problems of exchange rate and interest rate. The dominance of the big state-owned banks is also a factor holding back financial innovation, and is also thought to be a factor in the problem that small and medium enterprises face obtaining loans," said Duncan Innes-Ker, an economist at the Economist Intelligence Unit, when asked how to improve China's financial system.
"Nevertheless, the Asian financial crisis of 1997-98 and the latest global economic crash have shown the perils of overly rapid liberalization, so a cautious approach to financial reform is wise," he added.
In 2004, China ranked 46th and since then has moved up the development ladder in the forum's report. Last year, the country climbed up to the 30th seat.
The report's global competitiveness index is based on 12 categories, such as institutions, infrastructure, macroeconomic stability, health and primary education, higher education and training, goods market efficiency, labor market efficiency, financial market sophistication, technological readiness, market size, business sophistication and innovation.
(China Daily 09/09/2009 page2)