The Changchun Economic & Technological Development Zone (CETDZ) in Changchun, one of the nation's top 10 economic development zones, is planning to increase its competitiveness through industrial restructuring.
Such an initiative will highlight the strengthening of its advantageous industries such as auto making and auto parts, grain processing, corn chemicals and modern service.
Through the restructuring, the CETDZ is expected to have an optimized and competitive industrial structure with more potential development space.
According to Lin Chongzhe, deputy director of the CETDZ administration committee, the zone's auto parts industry has achieved an output value of 16.5 billion yuan in the first half of this year, accounting for 45 percent of the zone's total industrial output value.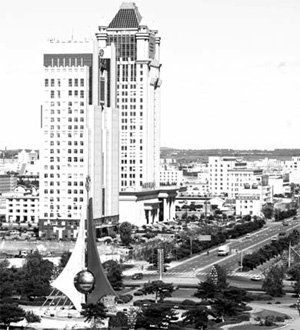 Well-developed infrastructure increases the zone's allure.
At present, there are over 60 foreign-funded auto parts companies in the CETDZ among the total 80 in the whole Changchun area.
With newly improved infrastructure in the northern area of the CETDZ, both domestic and international companies are being attracted to make investment there, promoting fast and healthy industrial advancement.
In the first half of 2009, the grain processing industry achieved an output value of 14.13 billion yuan, accounting for 40 percent of the zone's total industrial output value, an increase of 23 percent compared with the same period of 2008.
In the corn chemicals industry, the Dacheng Group reached an output value of 13.69 billion yuan in the first half, an increase of 31.8 percent year on year, which offset the bad impact to the corn chemicals industry brought by the financial crisis.
Food, photo-electronics and clothing industries all maintained a fast and steady growth of 8.8 percent, 16.6 percent and 25 percent respectively in the same period.
In order to accelerate industrial development, the CETDZ is focused on the planning and construction of several industrial parks, including the Bio-chemical Industrial Park, the Special Vehicle Industrial Park and the Modern Equipment Park to form key industrial clusters.
Better infrastructure and more favorable policies will be in place in these parks, giving a further boost to the development of the pillar industries in the CETDZ.
(China Daily 09/08/2009 page14)