The hotel manager says you must check out before 12:00 noon or you will have to pay for half a day's expense even though your departure is timed in a couple of hours. The restaurant waitress explains your high bill includes extra payment for disinfected chopsticks and napkins. The shop assistant insists your purchase cannot enjoy quality guarantee since they are on sale
Every business operator would respond to your inquiries that each item is required by a certain insider rule of the business or sector, probably practiced for years or decades, even though you may encounter it for the first time.
The new version of the Chinese Hotel Industry Guideline, published recently, has an article about checking-out-before-12 deleted. The guideline does not set rules about the time of checking out, though it says hotels should inform guests about the check-out time. But it's reported that many star-rated hotels still require their guests to move out before 12 despite the deletion.
Such insidious practices are harmful to the market. China is a 21st century market economy endeavoring to turn consumption into a growth engine. Abundant supply of commodities and services are turning the seller's market of late last century in favor of buyers. Consumers are learning from their repeated lessons and rising to protect their own interests, which is indicative of a mature and sound market.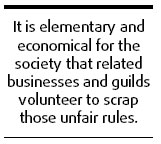 Such rules, no matter how inveterate they are, are detrimental to involved businesses as well. The open market is characterized by close competition where honesty, quality service and social responsibility are the basics. Globalization and the country's openness to the outside world is forcing industrial, commercial and service businesses at home to live up to higher international standards in almost all fields of consumption in this increasingly smaller and flatter global village.
Thus, it's high time China rooted out unhealthy latent business rules that hurt consumers. In March, while designating 2009 as a year for consumption and development, the China Consumers' Association (CCA) announced that a core task is challenging latent consumption rules.
Many of its subsidiaries took action. In April, Guangdong provincial consumers' association made public top 10 latent consumption rules selected from hundreds of proposals. Among them are high parking lot management fee collected from parking lot owners; parking only without caring for vehicles or properties in and on them; high charges for opening the electrical appliance to be repaired even without repairing anything; minimum consumption for restaurants or entertainment halls; and seat reservation charges or tableware disinfection fees.
The second step should be to ratify and reprove, finding out the causes and related sectors and departments involved. Heilongjiang province in the northeast even released causes, specific cases and available legal requirements while listing top eight latent consumption rules. CCA is busy consulting experts on their collection of such rules.
Apart from publicizing these actions, both new and traditional media showcase their roles in conducting surveys. In the latest joint survey conducted by Sohu.com and the social investigation center of the China Youth Daily in early August of 1,053 people, it was found that 99.4 percent of the customers had come across such "latent consumption rules". Catering and accommodation tops all sectors where people find latent rules most easily, followed by shopping, tourism and entertainment, medical services, house furnishing and property management, training and education, hairdressing and beauty parlors.
The third and decisive step should be to clear out the rules. Consumers, represented by CCA, resist listed rules, related businesses and guilds forsake them, and the administration of industry and commerce monitor them.
Currently most consumers just shy away when they come across infringements. According to the joint Sohu.com survey, 78 percent of the respondents chose to "let it go" while 83.7 percent believe the costs are too high to protect their rights. To make consumers stand up demands lowering the costs for them to do so. Because individual consumers can hardly afford the time and energy, one solution is for the legislative authorities to enable the CCA to represent consumers in group action.
Yet it is elementary and economical for the society that related businesses and guilds volunteer to scrap those unfair rules. This may be painful for a time but they would be under heavier pressure to lose consumers.
In fact, some operators have already woken up to take the call. Tourism website Ctrip.com in June and July led 300 hotels from 40 cities in promoting "delayed hotel check-out", allowing customers who placed orders via the website to check out by 14:00 instead of at noon without extra payment.
Various guilds should shoulder their social responsibility and take long-term interests into consideration. In Fujian province, 17 jewelry chain stores have observed an agreement signed in April with the provincial jade and jewelry association to ensure that the gold ornaments they sell comply with standard after-sale inspections.
People in Wuhan, Hubei are free to take liquor or drinks to dine in eating houses, thanks to an administrative ordinance issued by the city's bureau of industry and commerce bureau in banning corkage fees.
An additional step is to improve legislation. One option is to amend the Law on the Protection of Consumers' Rights and Interests adopted 15 years ago and carry out the new provisions and detailed regulations in earnest.
(China Daily 09/07/2009 page4)